So I was going to jam up the 16-plus pounds of onions I got for less than $2, plus all the onions from the garden at the same time I was trying to wrap up this year's canning craziness. I had batches of cantaloupe jam, watermelon jelly, pickled limes, and peaches all cooking at the same time.
I didn't want the other items to take on that "onion -smell/taste" and I certainly didn't want my house to stink. Also, I learned my super-power resistance to onions disappeared when I stopped wearing contacts. So, I got smart, planned ahead, and it all went to heck anyway.
I present Jamming the Onions.
1. Set up prep area outside, in shaded breezy spot. Clean and chop onions.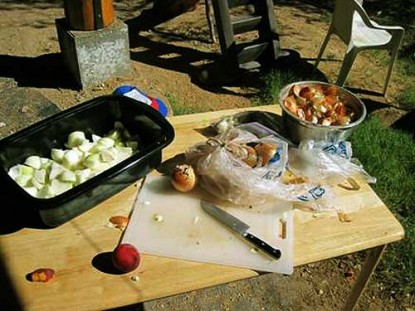 2. While working, slice endless supply of peaches the children have discovered in the back of the fridge. I should jam those…. Borrow gynourmous crock pot. Put onions in pot: meh—toss a peach in there too.
3. Look up to see the children have been busy. How did they get that up there? I wonder if I could slide off the top….
4. Make mental note to move breakables up a shelf.
5. Place onions in well-ventilated area, and set to cook.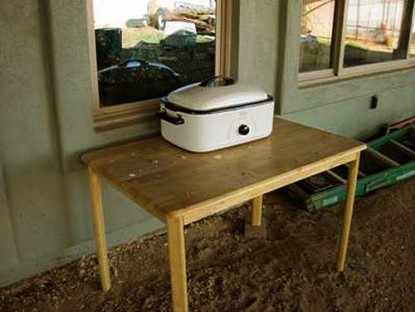 6. Go inside, continue other projects.
7. Notice things have gotten quiet.
8. Find baby asleep on table. Wake him up to find he has been playing with stickers.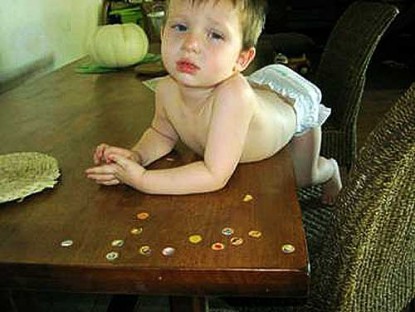 9. Scrape off stickers.
10. After letting the onions cook for 1-2 hours, use hand blender to chop onions. Be an idiot and splatter yourself liberally with sticky boiling onion goo. Be sure to liberally coat the window.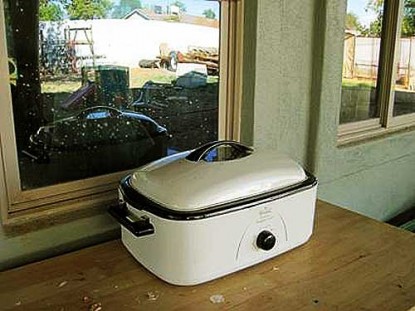 11. Let cook another 30 minutes. Bring onions inside and transfer to pot. Add balsamic and apple cider vinegars, spices, and bring to boil.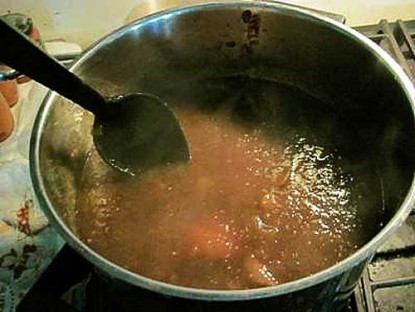 12. Add pectin, sugar, and return to boil. Place onion jam into jars. BWB 15 minutes.
13. Clean kitchen, and walk around corner. Notice more mischief. I was looking for that shoe….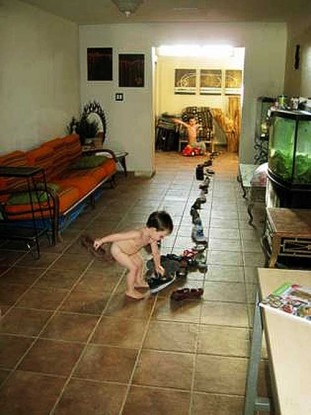 14. Switch out jars in water bath.
15. Search house for missing diaper.
16. Find diaper, clean up mess.
17. Ignore jars too long. Have one flip over in water bath and explode.
18. Let onion glaze stink fill house like toxic cloud.
19. Put canning pot and stinky water outside.
20. Clean it up tomorrow.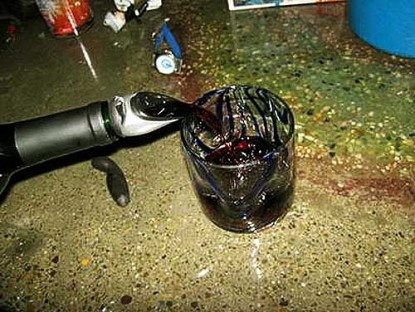 This is based on a recipe I found at KDBeads' blog, and a similar one for caramelized onion jam I found at Taste of Home.
This is how I ended up making my recipe—because I had different ingredients, or because I don't like mustard seed, or because I am lazy.
Onion Jam:
4 whole garlic bulbs
1 teaspoon canola oil
5 cups chopped onions, 1 1/2 pounds (I used brown, white, and the orphaned onions from the garden)
1/4 cup butter, cubed
3/4 cup cider vinegar
1/2 cup bottled lemon juice
1/4 cup balsamic vinegar (I used regular balsamic, but next time I would use white balsamic so the onions would remain "white"—plus it is sweeter)
1-1/2 teaspoons ground mustard (PATOOOIE! I used cumin and coriander)
1 teaspoon salt
3/4 teaspoon white pepper
6 cups sugar
1 pouch (3 ounces) liquid fruit pectin (I used regular pectin–the liquid stuff is hard to find here)
Peel and coarsely chop onions and garlic. Toss in crock pot with apple cider vinegar. Cook until onions look slightly clear and a few are lightly browned. You may need to add a bit of water to prevent the ACV from cooking completely off.
Once cooked, chop onions with hand blender—or semi-puree in food processor.
Stir in the cider vinegar (if not already used), lemon juice, balsamic vinegar, and spices. Bring to a rolling boil.
Gradually add sugar, stirring constantly. Return to a boil for 3 minutes.
Add pectin; bring to a full rolling boil. Boil for 1 minute, stirring constantly. Remove from the heat; let stand for 3 minutes. Skim off foam. Pour hot mixture into hot jars, leaving 1/4-in. headspace. Adjust caps. BWB 15 minutes.
See this recipe on Farm Bell Recipes for the handy print page and to save it to your recipe box:
Onion Jam

Interested in contributing a guest post to the Farm Bell blog? Read information here for Farm Bell blog submissions.

Want to subscribe to the Farm Bell blog? Go here.