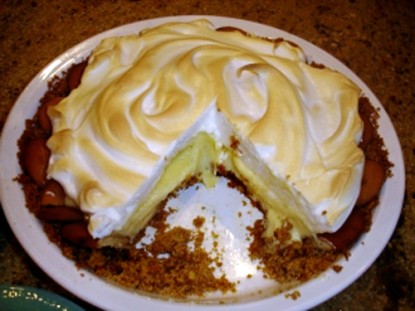 Difficulty: Easy
Servings: 6 or 8
Prep Time:
30 minutes
Cook Time:
25 minutes
Ingredients
Crust:
16 graham cracker squares
6 Tbsp melted butter
Vanilla wafers
Filling:
1 can Eagle Brand sweetened condensed milk
3/4 cup freshly squeezed lemon juice
3 eggs, separated
Meringue:
3 egg whites
6 Tbsp sugar
1/2 tsp vanilla
Directions
Crust:
Finely crush graham crackers in food processor. Pour into bowl. Add melted butter and mix. Pat out into a 9-inch pie plate. Gently add vanilla wafers along the side of the pie crust. Bake at 350 degrees for 8 to 10 minutes until lightly browned. Remove and cool.
Filling:
Add egg yolks and lemon juice to Eagle Brand and whisk well. Pour into cool pie crust and bake at 350 degrees for 10 minutes. Remove from oven and completely cool before adding meringue.
Meringue:
Beat egg whites until stiff peaks form. Gradually add sugar and continue beating. Add vanilla and mix well. Cover cooled pie filling with meringue and form peaks and swirls. Bake at 350 degrees for 10 to 12 minutes until peaks are browned. Remove from oven.
Categories: Pies
Tags: Southern
Submitted by: syrupandbiscuits on March 8, 2011