Nothing says Autumn like watching Grandma chase a turkey out of the house in her scooter.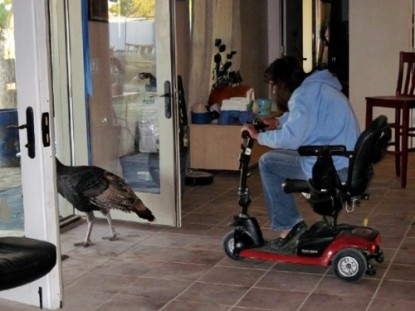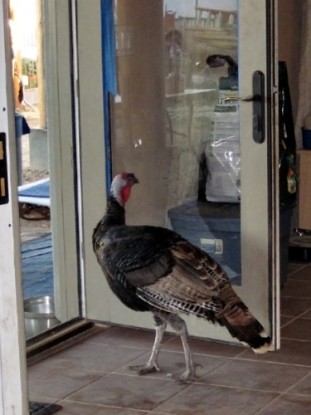 No? No one else has this problem? I even have one of these to remind Grandma to close the door behind her.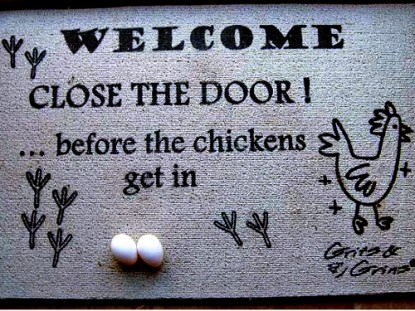 All right then, how about, "Nothing says Autumn like Cranberry Pear Jam"?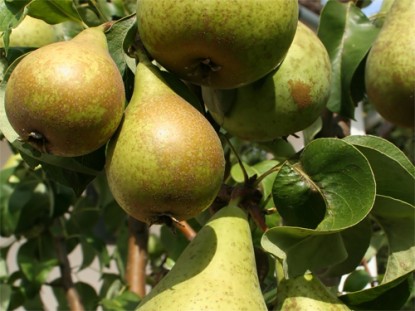 How to make Autumn Cranberry Pear Jam:
3 cups crushed cored peeled pears
2/3 cup coarsely chopped dried cranberries *
1/4 cup unsweetened apple juice
1/4 cup bottled lemon juice
5 1/2 cups granulated sugar (This can be reduced a bit)
1 teaspoon ground cinnamon
1 pouch liquid pectin (I used regular pectin, with great success)
In a large, deep stainless steel pan, combine pears, cranberries, apple juice, lemon juice, sugar, and cinnamon.
Over high heat, stirring constantly, bring to a full rolling boil that cannot be stirred down. Stir in pectin.
Boil hard, stirring constantly, for 1 minute.
Remove from heat and skim off any foam.
Ladle hot jam into hot jars, leaving 1/4 inch headspace.
Remove any air bubbles and adjust headspace.
Adjust lids and process for 10 minutes (adjust to your altitude) in BWB.
Makes: 6-8 (8 ounce) jars
*Note—My food critics all agree you could double or triple the amount of cranberries in this recipe. I will be doing so next time I make a batch.
Get the handy print page and save this to your recipe box here:
Cranberry Pear Jam.

P.S. – Everyone always goes nuts over the rug. I ordered it from Real Nice Rugs.

Larissa blogs at The Henway.

Interested in contributing a guest post to the Farm Bell blog? Read information here for Farm Bell blog submissions.

Want to subscribe to the Farm Bell blog? Go here.