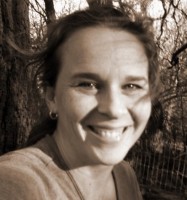 Say hello to Kelly!


Q. What are your favorite things to cook?
They're certainly nothing extravagant, but one of my favorite things to cook is breakfast burritos. I use eggs from our chickens, potatoes from our garden and sausage or bacon from our pigs. It is so satisfying to serve my family food that we all had a hand in producing – and the kids are sure to eat it!
Q. How/when did you learn to cook?
When I was growing up, the food at our house was always good but cooking from recipes (as my mother usually did) didn't really interest me. I became interested in very simple cooking, using fresh ingredients such as herbs. I love Italian food and a lot of my cooking is inspired by that. When I got married, I started trying to replicate the flavors and dishes that my husband and I enjoyed at restaurants. I experimented and learned what ingredients did what and eventually came up with my own cooking style. I seldom follow or write down recipes unless I am baking – I rather use "formulas" to get the results I want in the kitchen. I try to cook like I imagine my great-grandmothers would if they had access to all the ingredients that I do.
Q. Tell us about some of your cooking triumphs.
I felt quite triumphant when I finally perfected my own basic bread recipe after several awful experiments. I am also quite proud of my hot sauce recipe. We Texans are serious about our hot sauce and, despite its simplicity, it can be tricky to make. Learning to can a few years ago was also a huge step for me and opened up a whole new world of things to cook and preserve, especially since we live on a farm.
Q. What was your most memorable cooking tragedy?
I attempted to make blackberry jam without pectin once and it was a disaster–the seeds burned, the whole thing bubbled over and oozed all into my stove and it smelled horrible for weeks every time I turned it on. A few of those breadmaking experiments turned out things that weren't even edible. At least our pigs got to enjoy my failures!
Q. Describe your kitchen. Do you love it, hate it, and why?
My kitchen is open to my living room. That makes for a real love-hate situation. It is bright, airy and open but I don't have nearly enough counter space and I have some wonky-shaped cabinets that I can't reach very well. It functions, though, and it is the center of activity in our house. I can watch the kids or chat with my husband while I'm cooking and those are my favorite things about it.
Q. Is your pantry organized and are your kitchen drawers tidy? We need to know.
My pantry is extremely organized, as is my refrigerator and freezers. Everything is arranged in a very specific order so I always know exactly what I have. My drawers aren't terribly tidy, though, and my kitchen is always a mess because there is always some kind of work in progress…I cook pretty much constantly (or at least it feels like I do!)
Q. Do you have any favorite family cooking traditions?
Every Christmas, my mother makes date pinwheel cookies from her grandmother's recipe and I always look forward to them–she absolutely will not make them any other time! After our second daughter was born, I started making apple pie on Christmas morning and it has become a wonderful tradition for us, too…but I'm not opposed to making it at other times of the year. 🙂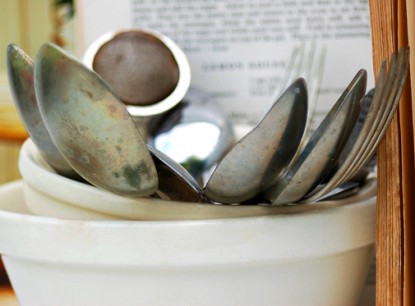 Q. What is the one gadget (or ten) you couldn't do without in your kitchen?
I'm actually trying to get rid of all but the most basic tools in my kitchen. I have three good knives and very few other utensils–the ones I use the most are my whisk, tongs, and silicone spatula. I love my cast iron skillets and griddle and can cook just about anything in them. I have a food processor but I rarely use it, usually just to make hot sauce. I enjoy being able to do more with less.
Q. If you had to take one food to a deserted island, what would it be?
Potatoes! I never get tired of them and I'm sure I could live on them indefinitely. I guess it's the Irish in me.
Q. What is your go-to comfort food?
Anything that involves cream gravy! I would have to say a big breakfast with biscuits, bacon, fried potatoes and eggs…and cream gravy. A good hamburger. Ice cream and milk in a tall glass like my mother taught me to love when I was a kid. Good Tex-mex. Ice-cold "Dublin" Dr. Pepper in a glass bottle. It's so hard to choose a favorite. I believe all food should be "comfort food".


Some of Kelly's recipes on Farm Bell Recipes include:
Find all of Kelly's recipes and blog contributions here.


You can find Kelly at Sowell Farm.

Do you have a recipe post or kitchen-related story to share on the Farm Bell blog?
Read information here for Farm Bell blog submissions.

Want to subscribe to the Farm Bell blog? Go here.