Sometimes you just have to have chocolate. You know what I'm talking about-–you can have apple pie, snickerdoodles and peanut brittle staring you in the face and you are not even tempted. There are times when it's simply chocolate or nothing–and for those times, you start with an empty mug.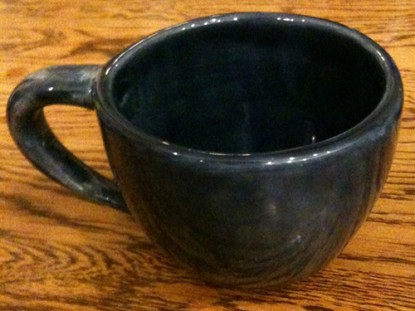 Put 3 Tablespoons of butter into your mug and microwave it for about 15 seconds or just until the butter is melted but not hot. Add 4 Tablespoons of sugar and an egg white to your butter and stir just a little until it looks like this:
Now stir in 3 Tablespoons of flour, 2 Tablespoons of your favorite cocoa, 3 Tablespoons of milk and a tiny pinch of salt. You can also add a few chopped nuts and/or a tiny splash of vanilla at this point but those are strictly optional-–it's the chocolate that is the focus here. A few mini chocolate chips are nice if you have them.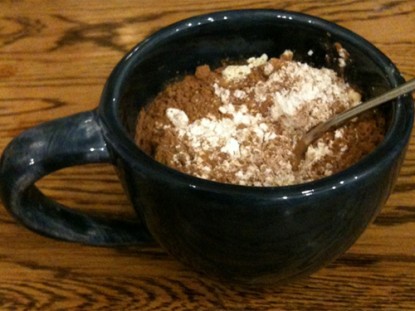 When the contents of your mug look like brownie batter, zap it in the microwave for 1 minute, 30 seconds. The top will puff up like a miniature chocolate soufflé and it will look like this: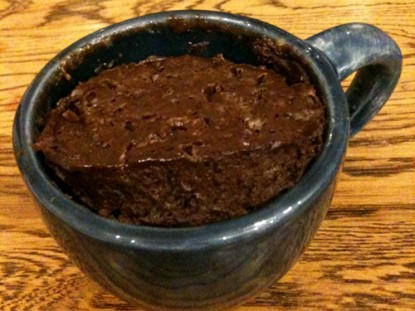 You can drizzle it with chocolate syrup or plop a scoop of vanilla ice cream on top if you like but it is rich, dense and oh-so-chocolatey all by itself. Be sure to eat it while it is still warm! (Don't be overly zealous, though. It's very hot when it comes out of the microwave.)
You can even get fancy with this little recipe when you find yourself with unexpected guests. Make each person their own personal chocolate cake and top them with whipped cream, hot fudge, sliced strawberries, mini marshmallows, white chocolate chips or raspberry puree. They'll think you are a kitchen wizard and everyone will get their chocolate fix. It's almost too easy, but we all need a few tricks like this up our sleeves…especially when only chocolate will do.


Get the handy print page and save this to your recipe box here:
Quick Chocolate Fix.

You can find at Sowell Farms.


Do you have a recipe post or kitchen-related story to share on the Farm Bell blog?
Read information here for Farm Bell blog submissions.

Want to subscribe to the Farm Bell blog? Go here.