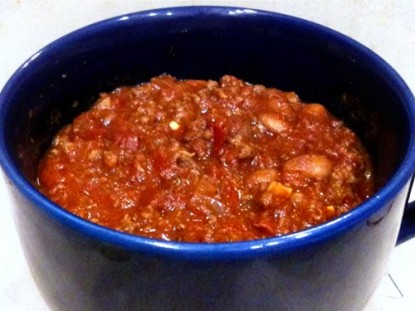 Difficulty: Easy
Servings: 4
Ingredients
1 pound ground chuck (you can use chuck cubes if you have time to let it simmer all day)
1 or 2 cans cooked pinto beans (I use Ranch Style)
1 finely chopped onion
4-5 cloves finely chopped garlic
1 (28 oz.) can crushed tomatoes
1 Tablespoon taco seasoning (optional but it does give an extra layer of flavor. I use Fiesta – make sure whatever kind you use is salt-free)
2-4 Tablespoon chili powder (I use Gebhardt)
1 teaspoon ground cumin
Salt
Directions
Finely chopped jalapeno or serrano peppers (optional).
Brown beef and add taco seasoning before it is completely cooked. Add onions and cook until they start to soften. Add tomatoes, garlic and beans. When mixture is bubbling-hot, add cumin and chili powder. Start with 2 tablespoons of the chili powder, stir well and taste. Keep adding until it is as hot as you like it. If you like more heat, add chopped peppers. Add salt at the very end, only a pinch at a time and taste after each pinch. Be careful not to add too much salt or the chili will taste sweet.
Simmer uncovered for about 10-15 minutes if using ground beef. If using chuck cubes, cover and let chili simmer for at least 6 hours.
Toppings are strictly optional but chopped onions and/or jalapenos are nice and so is a little shredded cheddar. Serve with corn chips, saltine crackers, tortillas or cornbread.
Categories: Chilis
Submitted by: kellyberry on January 18, 2011