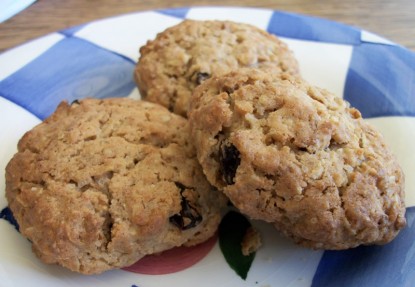 Difficulty: Easy
Servings: 10-20, depending on size
Prep Time:
10 minutes
Cook Time:
10-20
Ingredients
1/2 c butter (room temperature)
1/2 c sugar*
1/2 c brown sugar*
1 egg
1/2 t vanilla
3/4 c AP flour
1/4 c whole wheat flour
1 t baking powder
1/2 t cinnamon
1/4 t salt
1/2 c old-fashioned oats
3/4 c slightly crushed bran flakes**
1/4 c raisins**
* You can substitute 3/4 c turbinado sugar for the regular sugars
** Or just use a cup of raisin bran
Directions
Preheat oven to 350 degrees.
Cream together butter and sugar, then stir in egg and vanilla. Add other ingredients and stir well – a spatula works well as the mixture is very thick.
Drop rounded spoonfuls onto cookie sheet and bake for about 10-15 minutes, depending on the size of your cookies. Be careful not to let them burn because it can happen quickly!
Categories: Breakfast, Cookies & Bars, Gift Basket Goodies, Kid-Friendly, Other Breakfast
Submitted by: kellyberry on November 10, 2010