I know. I know!


They sound fabulous don't they!
Trust me, they are. And they're good for you! – Carrots! Oats!! Mmmmm.
We made these with that wonderful doughnut machine that I won here on Farm Bell Recipes–Brownies–In My New Doughnut Maker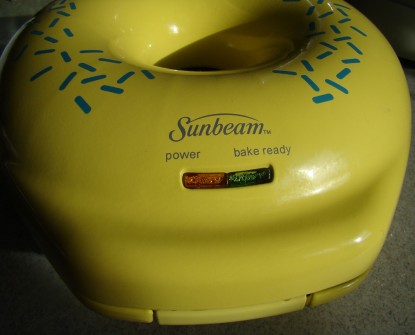 It made wonderful brownies! But I was hungry for carrot cake. And cream cheese frosting.
Mostly the frosting.
I'm sure you understand.
I'll get right to the point.
How to make Carrot Cake Doughnuts: Printable
Plug in the doughnut maker.

Combine 1 1/2 cups grated carrot, 1 1/2 cups ground whole oats/oatmeal, and 1/4 cup water in a microwavable bowl. We microwaved them for 1 minute, then stirred, then 2 minutes, then stirred, then 1 more minute. Stir well. Make sure the carrots are cooked enough for you. They won't cook long in the doughnut machine.
When the carrots are soft enough for you, add 3/4 cup sugar, 1/2 cup oil, 2 eggs (beaten), 1/4 cup flour, 3/4 teaspoon cinnamon, 1/2 teaspoon baking soda, 1 teaspoon vanilla, 1/4 teaspoon salt, and a dash of nutmeg.
Stir well. Pipe into the doughnut maker. Don't try to spoon it in – too messy! Use a zip-lock bag with a corner cut off if you don't have a fancier piping tool. You'll be glad you did!
Bake doughnuts for 6 minutes.
Ready to come out!
Take them out and let them cool a bit. Glaze when warm. Or not. Whatever you want. I glazed them when they were very very warm so the glaze would melt all over and get gooey.
How to make Cream Cheese Glaze: Printable
Melt the 1/2 block of cream cheese in the microwave. Stir in 1 cup powdered sugar. If the glaze is too stiff, then add a couple of drops of milk and stir well.