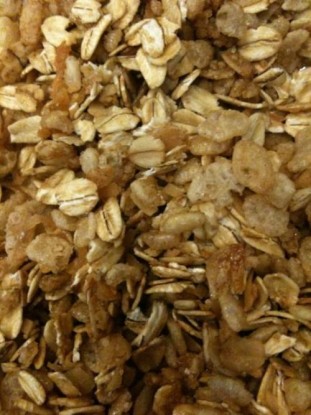 Difficulty: Easy
Servings: a lot!
Prep Time:
10 minutes
Cook Time:
1 hour
Ingredients
3 c old-fashioned oats
2 c rice cereal (I use Rice Krispies)
1 c shredded coconut (I use sweetened)
1/4 c brown sugar
1/4 c maple syrup or honey, warmed slightly
1/4 vegetable oil
3/4 t salt
1/2 t cinnamon (optional)
1 c raisins (optional)
1/4 to 3/4 c chopped nuts (optional)
Directions
Preheat oven to 225 degrees.
Combine all ingredients except raisins in a very large bowl and mix until everything is well combined. You may need to slightly warm the syrup or honey if it is too sticky – it needs to be runny to coat everything.
Spread onto a cookie sheet and place in oven. Stir about every 10 to 15 minutes until everything is golden brown, usually about an hour. Keep an eye on it – don't let it burn!
Remove from oven and add raisins or other dried fruit, if using. Let cool completely and store in airtight containers.
Categories: Cereals, Kid-Friendly
Submitted by: kellyberry on November 10, 2010