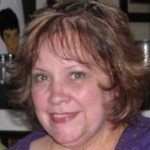 Say hello to Kathi from Colorado!


Q. What are your favorite things to cook?
I like to can, so jams, jellies, and preserves are some of my favorite things to cook. I'm a fan of tasty appetizers, so those are on my list, too. I like having an excuse to make an entire dinner out of a couple different appetizers. We call that "little bites" at our house.

Q. How/when did you learn to cook?
Mainly, I started to learn to cook so I could get my cooking badge in Girl Scouts. Though, looking back, the recipes we made for that were not exactly cooking. For example, at Girl Scout day camp, our leaders taught us how to make an "easy and portable" dinner, which was basically canned Chef Boyardee spaghetti mixed with corn and served in ice cream cones. It looked and smelled as if someone had already eaten it once. (Can I say that here? Sorry.)
Thankfully, I had some other help and my Mom and Dad gave me the Better Homes and Gardens Junior Cookbook for my 9th birthday, which helped a lot.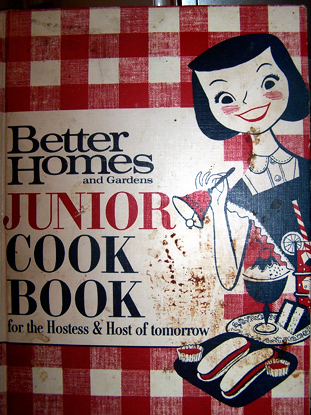 I can still remember making "mock drumsticks" (hee hee) and am happy to say I still have that cookbook.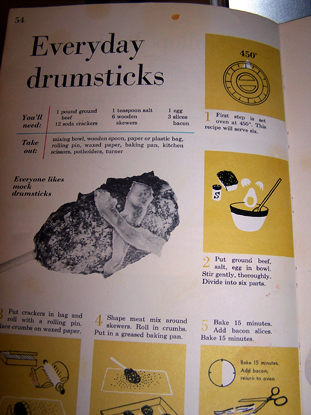 It is well-used and stained, but I still love to look at the color photos inside it. Tutti-fruitti-ice SPARKLE!
Q. Tell us about some of your cooking triumphs.
Learning to can was a big one for me. My Grandma and my Mom used to can when I was a kid, but it was off my radar for the early part of my adult life. I am glad I finally got interested, 'cause I've made some really tasty things since then.

Q. What was your most memorable cooking tragedy?
There are too many to say. But the one that made me maddest was during my Girl Scout cooking badge-earning phase, when I made a recipe for curried rice with cheese. My entire family sat down to eat it, and my brat of a brother took one bite and ran to the bathroom to be sick. How rude! (Hey, maybe that's why I am not a rice fan to this day. Shhhh… don't tell my brother.)

Q. Describe your kitchen. Do you love it, hate it, and why?
I love having a kitchen, so in that sense I love it. But if it were up to me I'd have way more counter space and cupboards that made more sense for storage and accessibility. Maybe we'll fix that someday.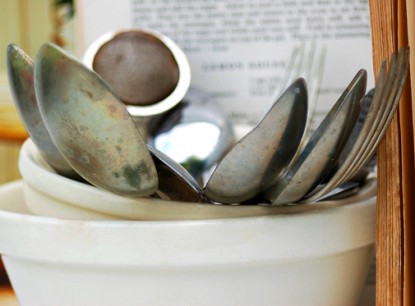 Q. Is your pantry organized and are your kitchen drawers tidy? We need to know.
Um, no. I can find things, but it's not neat and tidy. But, I don't care enough to make it that way. Though if someone wants to come in and do that for me. . . hmmm.

Q. Do you have any favorite family cooking traditions?
Jim and I like to cook together. For our evening meal, he will sometimes make part and I'll make part. And special occasion cooking is almost always a joint effort (for instance, pumpkin pies from pumpkins we grow in the garden).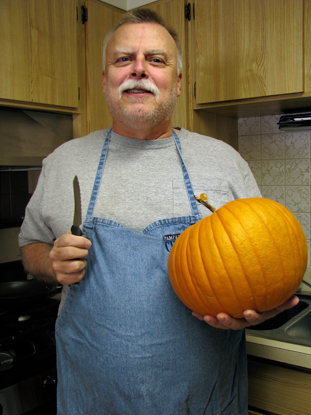 And I always make my pineapple upside down cake hot pink. I use maraschino cherry juice as a big part of the liquid. That's tradition!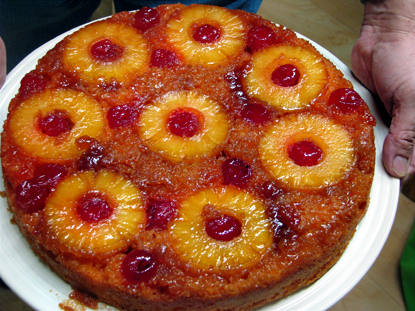 Q. What is the one gadget (or ten) you couldn't do without in your kitchen?
I am a big fan of my hot-pink KitchenAid stand mixer. It saves me a lot of time and work. And it looks pretty sitting on my counter. I also appreciate my food processor, especially when it comes to shredding cheese or preparing food for canning.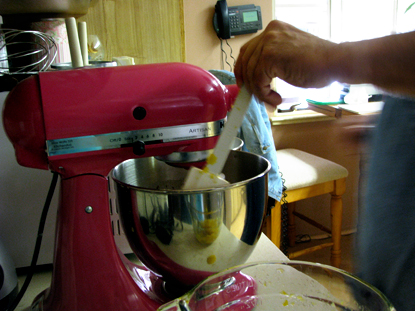 Oh! And our dog Nugget is a very helpful gadget. He is a pretty good vacuum, wet mop, and catcher, great at clean-up. He would love to also be a great dishwasher.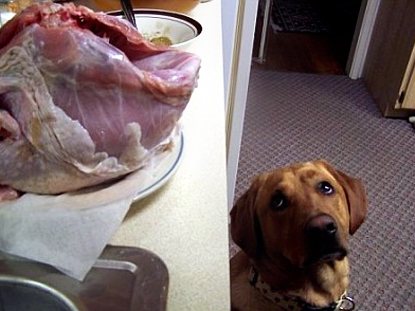 Q. If you had to take one food to a deserted island, what would it be?
Chili con Queso. I could eat it often and lots of it. But I would need plenty of iced tea to go with it.

Q. What is your go-to comfort food?
I'm definitely a mashed potato fan. Homemade. With cream and butter. Yum.
Some of Kathi's favorite recipes that she's contributed to Farm Bell Recipes include: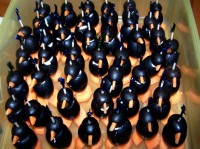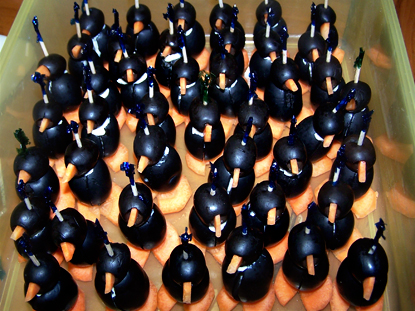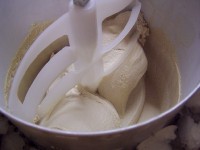 See all of Kathi's recipes and blog posts!


Kathi N blogs at How We're Gonna Do It.

Do you have a recipe post or kitchen-related story to share on the Farm Bell blog? See Farm Bell Blog Submissions for information and to submit a post.

Want to subscribe to the Farm Bell blog? Go here.