Late one Sunday night I got a phone call. "You've been recommended to me as a family that would be a good option for taking a Japanese exchange student. His family cancelled and we desperately need another one. They fly out in one day." I was stunned. I wanted to both hang my friend and run away at the same time. My husband had just started a new job and is commuting over an hour away.
I said, "I'll have to ask my husband so I'll call you back." My husband and I decided to not take the student, but the kids were going nutso to take on the adventure. We gave in and decided to take him with the stipulation that the older teens must be really in charge.
I won't give you the highs and lows, but he is about to go home now, 3 1/2 weeks later, and I've been reflecting on the entire experience. As part of the visitation, he was required to cook two meals for us. He made teriyaki chicken. The other meal was the actual inspiration for this post.
Kai and I worked together to make curried Udon including pork strips. I will admit something: I am a noodle lover. Now that I'm diabetic, I'm supposed to stay away from them. However, I've made many different variations of noodles by hand and have just had a wonderful love affair with homemade especially. With Kai bringing these bags of semi-soft noodles to cook, I had no idea what to expect.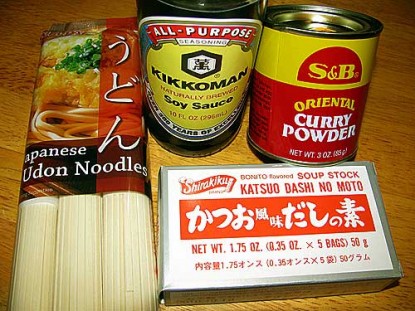 How to make Curried Udon with Pork:
Onion: 1 1/2, moderate chop
Green onion: slice the tops at an angle
Pork: 1 pound, sliced into thin long strips
Japanese soup stock (Hon Dashi) 2 teaspoons
Curry powder, Japanese: 5 teaspoons
Cornstarch: 4 teaspoons
water: 8 cups
Udon Noodles: 400 g
Soy sauce: about 1/2 teaspoon
Soften the onions in a little oil, stirring consistently, then add the pork. When the pork is cooked through, mix in the curry powder. Cook for a couple of minutes. Bring a large pot of water to a boil and cook the noodles at a lower simmer. Add 7 cups of the water to the pork mix, stir it in, add soy sauce, then add the last cup of water–thickened with cornstarch (just lightly thickened). Finally, add the cooked noodles to the thickened broth and sprinkle in the slices of the green onion. Serve in bowls.
Well, this recipe, that I'd never had before, was delicious. There was one aspect that caught me off guard–the noodles. They had almost a dumpling-like texture and were salty. I am so grateful that the "real thing" was used in this dish. I've read many recipes that say to use Italian noodles if you can't find any Udon.
Noodles are not "noodles" in other cuisine and cultures. Each has a specific list of ingredients and texture that bring interest to the meal and switching out doesn't necessarily meet the original. I was so grateful to have this be such a dramatic example. I've seen it with other foods, but noodles really are in many different cultures–but you can't classify them all as the same. Next time I get the opportunity, I'll either be making noodles per recipe or find ones in the store that really are culturally appropriate. Visiting the Asian or Italian grocery aisles now will have me looking for things that I haven't tried. As to Kai, he has brought some new ideas to our home, and we have learned much.
See this recipe on Farm Bell Recipes for the handy print page and to save it to your recipe box:
Curried Udon with Pork
You can also find Moopsee at Yahoo's Canning2.

Interested in contributing a guest post to the Farm Bell blog? Read information here for Farm Bell blog submissions.

Want to subscribe to the Farm Bell blog? Go here.