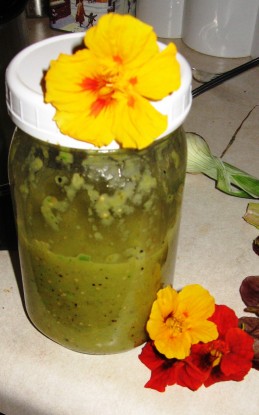 Difficulty: Easy
Servings: 10
Prep Time:
5 minutes
Cook Time:
10 minutes
Ingredients
1 lb tomatillos
1 large handfull fresh cilantro
4 cloves garlic
2-4 fresh jalapenos or other chilis, seeded if desired
Salt to taste
Directions
Remove husks from tomatillos. Roast on a grill till soft. Put all ingredients in a blender and puree for about one minute. Store in a jar in the fridge.
Categories: Condiments, Salsas, Sauces
Submitted by: rmr1984 on July 17, 2011