Another day in the kitchen with my Granny Girl.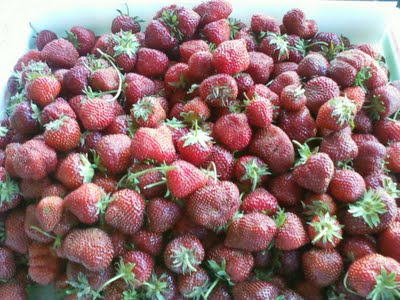 My kids and granny kids go every year to a farm and pick me berries. I am a lucky girl. I look forward to that day all year. I now have the canning bug and make my very own jam. Also, I like to bake.
As I've shared before, my grandmother taught me how to bake and now I am teaching my Granny Girl. And we now have a very special cake we like to make together. My Granny Girl rocks the mixer and totally could make this all on her own.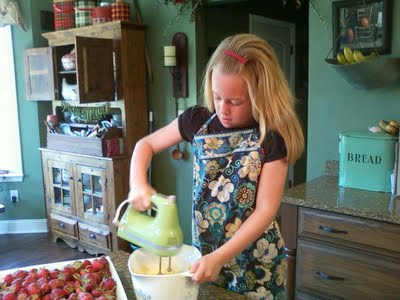 I hope one day Granny Girl has as much fun teaching her grannies as I do her. A recipe for a great day is baking and making memories with those you love.
How to make Granny Girl Strawberry Cake:
Cake:
1 box yellow cake mix
3 oz. strawberry jello
3/4 cup oil
4 fresh eggs
2 tablespoons flour
1/3 cup sugar
2 cups strawberries, lightly crushed
2 teaspoons vanilla
Put all ingredients in large mixing bowl and beat well. Pour in well greased 9×13 cake pan. Bake for 45 minutes.

Frosting:
1 box vanilla pudding
1 cup milk
3/4 cup powder sugar
1 container cool whip
3 drops red food coloring
Mix pudding, powder sugar and milk. Drop in three drops of food coloring. Fold in cool whip and spread on cooled cake. Garnish with additional strawberries and put in fridge.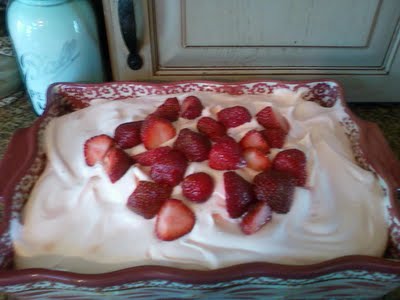 Hugs, Granny Trace & Granny Girl



Get the handy print page and save this to your recipe box here:
Granny Girl Strawberry Cake.
GrannyTrace blogs at Granny Trace Scraps and Squares.

Do you have a recipe post or kitchen-related story to share on the Farm Bell blog?
See Farm Bell Blog Submissions for information, the latest blog contributor giveaway, and to submit a post.

Want to subscribe to the Farm Bell blog? Go here.
Would you like a chance to win a Euro Cuisine yogurt maker?
Click here.