It was 1961. My eighth grade foods class teacher, Mrs. Pankratz assigned two girls to each mini-kitchen to cook some basic stuff. She tutored us while we created scrambled eggs, brownies, muffins, tuna casserole, and more. She was all business, but nevertheless inspiring. Each session she handed out mimeographed copies of her favorite teenager-doable recipes for our notebooks; ones that we couldn't accomplish during the short time in class, but were encouraged to try at home.
When the year was over, I was ready to cook for the world. Well, at least for my family. And I had a notebook full of Mrs. Pankratz' favorites. How could I go wrong? So with mom's permission I set out to create an old fashioned banana cream pie. Mom made sure I had all the ingredients at hand, then temporarily entrusted the kitchen to me.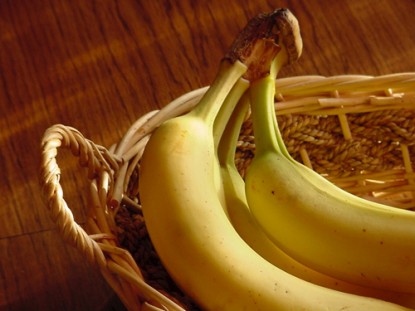 First the crust. Having had previous crust experience, I mixed, rolled, formed, and pre-baked a lovely light flaky crust. Yay, me! My confidence level was a high as I continued on to the next step.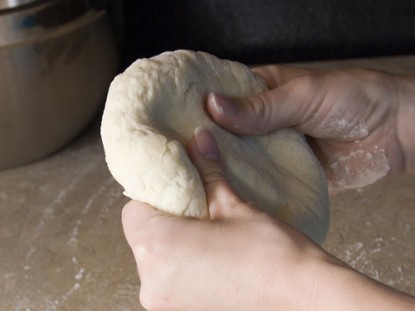 For the custard filling I combined sugar, flour and salt in the medium sized sauce pan, and slowly added scalded milk as per directions. Perfect!
Recipe: Meanwhile separate the eggs and set them aside for later use.
Check.
Recipe: Cook the milk mixture over medium heat, stirring constantly. When thick and bubbly, reduce the heat and cook for two more minutes.
Check.
Recipe: Remove the pan from heat. Pour the egg yolks into the sauce pan and mix well.
Check.
Ok. So, I seem to have missed the part where the recipe tells you to pour a little of the milk mixture into the slightly beaten egg yolks, BEFORE adding them to the hot milk mixture. (This tempering slowly warms the eggs and prevents them from scrambling when added to anything hot. Of course you already knew that. But I didn't.)
Those whole egg yolks hit the hot milk and started to hard-cook before my eyes! In a panic, I grabbed the spoon and started beating the mixture as hard as I could. Maybe if I caught it soon enough and beat fast enough, I could stop what was happening! My arm burned. My pulse raced. I remembered that I'm ambidextrous. I switched arms and kept going.
I punished that pudding for what seemed like an eternity, until my big sister happened by. She stirred it and tried to help, but as I recall, was totally cracking up at my predicament. A minute later, mom arrived and matter-of-factly enlightened me about tempering eggs. She shooed Sis out and encouraged me, saying that maybe it would be just fine; not to worry. She told me to stop beating up on the custard and move on. Then she vanished again. I did as she said, but my confidence level had taken a hit.
Turning to my lovely pie crust, I arranged banana slices in overlapping circles just so, and poured the pale yellow liquid from the pan into the shell. Wispy, beat-up bits of egg plopped in as I poured.
After dinner, instead of the dessert plates, mom got out the ice cream bowls and spoons. She brought my pie to the table and proudly announced, "Vicki made dessert tonight." Into each bowl she placed a wedge of banana covered crust and ladled (ladled!) in some of the filling.
I looked down at my dessert. There was pie crust sticking up on one side. The rest looked like soup. I dipped my spoon in and took a bite. The family did the same. Okay, the crust and bananas were good. And taking mom's lead, we all agreed that the filling "really wasn't bad at all." The texture was kind of creamy and somewhat edible. (If you could get past those little chewy bits of scrambled egg suspended in there!) I was too embarrassed to look up from my bowl. No confidence left.
What a family. Ya have to love 'em. They got really quiet. But they ate. Nobody gagged. Nobody complained. Everybody cleaned their bowls.
As usual, my sister and I did the dishes. Somehow, she managed to lift my spirits. We fished out and ate the remaining banana slices, then happily chucked my leftover "pie" down the garbage disposal. It wasn't so funny then, but nowadays when we think about it, Sis and I split our sides laughing. I wonder what Mrs. Pankratz would have thought.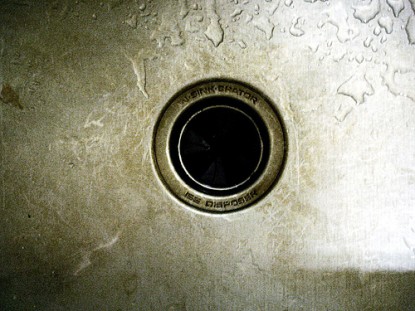 Did I mention that my mom was a high school home economics teacher? Head of her department, no less. And an excellent cook. I suppose this explains her calm, authoritative guidance. But why didn't she just have me start the custard over? Maybe she thought the life lesson was more important than a perfect dessert. Maybe she wanted to drive home the egg-tempering thing. Maybe we were out of milk. Who knows…
Now, I know I can't be the only person with a kitchen disaster in their past, so I'm thinking maybe you can relate. This disaster was met with kindness, positive attitudes and good humor, and I hope yours were, too.
The thing is, I don't even LIKE banana cream pie. What was I thinking?

Vicki can also be found at Oak Park Community Garden.

Interested in contributing a guest post to the Farm Bell blog? Read information here for Farm Bell blog submissions.

Want to subscribe to the Farm Bell blog? Go here.