Say hello to CindyP!
Q. What are your favorite things to cook?
A. I like to do the baking – my favorites are breads and desserts of any kind. Those are always my go-to when I feel the need to create.
Q. How/when did you learn to cook?
A. I remember helping to make dinner when I was 6. Potatoes were my specialty at that age. My mom took a job that was the afternoon shift. Dad only knew how to cook steak and fried potatoes – burnt fried potatoes at that. I started helping with the potatoes.
Q. Tell us about some of your cooking triumphs.
A. In high school, I was a member of FHA. I took first place from the whole state of Michigan with my banana bread. That may be where baking became my favorite things to cook. In the last couple years, I have triumphed being a scratch cook – no need to buy it when you can make it with ingredients from the pantry.
Q. What was your most memorable cooking tragedy?
A. In college, my roommate and I decided to make chicken/rice soup. Who was to know you didn't need a whole bag of rice to make just a small pot of soup!?!?!?! We kept adding broth and adding broth and adding broth and borrowing pans and borrowing pans. We fed the entire 2nd floor of our dorm and part of the 1st!!! It was good – just LOTS!!!!
Q. Describe your kitchen. Do you love it, hate it, and why?
A. My kitchen is made up mostly of furniture. I have an old dresser in the middle (at the moment) that works as my island. I have an old double rinse tub with a large recycled wood coffee table top on the top that acts as my baking center. I also have a bar that divides the kitchen from the dining room. All of this counter top area gives me lots of room for multi-tasking and creating. I only wish my stove was bigger with another oven. Overall, I am in love with the set up of my kitchen, just thinking of redoing the cupboards and built in counters to replicate old hutches with an old cast iron sink.
Q. Is your pantry organized and are your kitchen drawers tidy? We need to know.
A. My drawers are tidy now!!!! It took one day after your post to tidy them babies up – found some soapmaking tools that I can use, some things that I've never used and couldn't think of anything to use them for and purged! My pantry is a walk in closet with shelves built all the way to the ceiling. And it's tidy (now! That was a project this past winter). It has to be tidy, or I can't find anything. This is part of my kitchen cleaning – tidy the pantry as I tidy the counters.
Q. Do you have any favorite family cooking traditions?
A. Thanksgiving is probably the only traditional meal here. These 3 salads are always fixed at Thanksgiving — kidney bean salad, pistachio salad, heavenly rice – just because that's what Mom always did. We always have a grilled/smoked turkey and an oven roasted turkey. And the Saturday after Thanksgiving, we (everyone in the house) make Homemade Turkey/Vegetable Soup with Homemade Noodles – gallons of it! We have at least 2 turkey carcasses.
Q. What is the one gadget (or ten) you couldn't do without in your kitchen?
A. Steam juicer, pressure canner, strainer, cast iron pans, spice grinder, and my stovetop coffee pot! This past year has been the year of new favorite gadgets!!
Q. If you had to take one food to a deserted island, what would it be?
A. Oh my – just one? Would this island have coconuts? I would take some chocolate – so many desserts could be made with chocolate and coconut and coconut milk.
Q. What is your go-to comfort food?
A. Homemade Turkey Noodle Soup with homemade egg noodles – boil the turkey carcass slowly for a few hours with spices, add vegetables of all kinds, simmer more, and add homemade egg noodles at the end. There is nothing more comforting than this in the winter.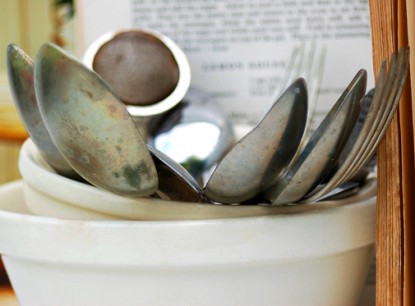 Some of CindyP's recipes on Farm Bell Recipes include:
Sausage Potato Roll
Hershey's Syrup
Pasty – Michigan's U.P. Traditional
Mayo Chocolate Cake
Quick 'n Easy Fudge
Elephant Ears
Find all of CindyP's recipes here.

Cindy blogs at Chippewa Creek ~ Our Life Simplified.

Interested in contributing a guest post to the Farm Bell blog? Read information here for Farm Bell blog submissions.

Want to subscribe to the Farm Bell blog? Go here.