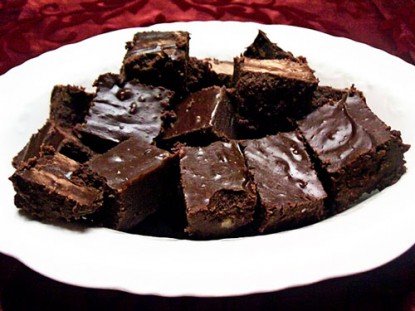 Difficulty: Easy
Servings: 24
Prep Time:
15 min
Ingredients
1/2 c. butter, cut up
1/2 c. milk
1 (12 oz) pkg semi-sweet chocolate chips (use any flavor chips)
4 c. powdered sugar
1 tsp. Vanilla
1/2 c. chopped walnuts, optional
Directions
Combine butter, milk and chips in medium saucepan. Cook and stir on low heat until butter and chips are melted.
Pour into large mixer bowl. Add powdered sugar and vanilla; beat at medium speed, scraping bowl often, until smooth. Stir in walnuts.
Spread in buttered 8-inch square pan. Cover; refrigerate until firm (1 1/2 – 2 hrs).
Cut into squares. Store refrigerated.
Tags: easy
Submitted by: cindyp on April 20, 2010