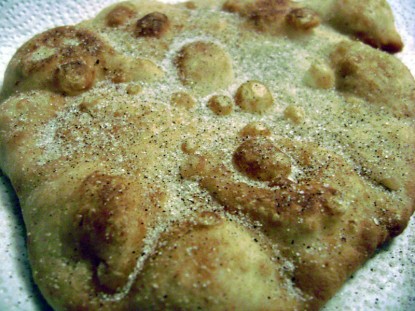 Difficulty: Easy
Servings: 10
Prep Time:
45 min
Cook Time:
30 - 40 sec per ear
Ingredients
1 1/2 cups milk, warmed to approximately 110 degrees
2 Tablespoons sugar
1 teaspoon yeast
1/2 teaspoon salt
1/4 cup lard (oil or butter will work)
4 cups flour
Pan large enough to fry your dough (I used my 10″ cast iron fry pan)
1″ of oil in the pan, heated to 375 degrees
Directions
Make your dough as you normally would for bread. Warm the milk; add sugar, yeast and salt; let sit for 5 minutes. Add the lard and stir around, it won't completely melt, but that's ok! Add in your flour a bit at a time, using what you need to. Put out onto a floured board or counter and knead until soft and pliable. Put into a greased bowl and cover, letting sit until doubled in size.
Divide dough into 10 pieces. Roll out very thin.
Put into hot oil and fry each side about 15-20 seconds or until lightly browned. If the oil gets low, add more back up to the 1″ mark and allow to come back up to temperature.
Drain on papertowels.
Load up with cinnamon sugar, jam, or honey!
Categories: Appetizers & Snacks, Breads, Desserts, Other Desserts, Yeast Breads
Submitted by: cindyp on September 6, 2010