I've always been traditional in my attitude toward homemaking. For example, our family likes to eat dinner together around the table. I wanted my kids to learn the value of that tradition and be able to carry it on into their own families one day if they so desired. That meant they needed to know how to cook! As teenagers they enjoyed having a night every couple of weeks when they had total responsibility to get the evening meal on the table. This included planning the menu, doing the shopping–or at least giving me a list–setting the table, and preparing and serving the meal.
I wanted them to have a collection of recipes that had been favorites during their childhood so I spent a couple of years compiling a family cookbook for them. I photographed family favorites as I prepared them in the course of our lives and holidays and typed out the recipes. I used some memorable photos as well as just pictures of the finished dishes themselves.
One particular favorite is of the kids and their dad decorating Christmas cookies together. This illustrated our Christmas cookie recipe, one that has been handed down from my mother. I also included basic tips like how to peel a tomato how to poach a chicken (and I don't mean stealing Suzanne's—not THAT kind of poaching! Haha!) and tablesetting ideas.
Pineapple Upside Down Cake, one of our favorite family recipes.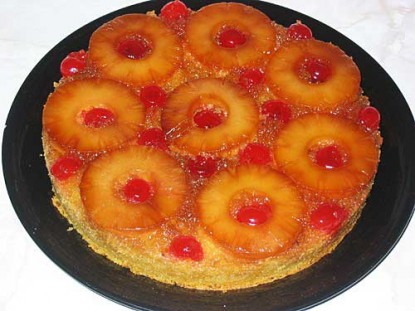 I put it all together in a three-ring notebook, suitable for adding pages over the years, and gave them each a copy when they moved out on their own. They have been on their own for over two years now and have started their own tradition they call "Family Dinner." They take turns one night a week to prepare a home-cooked meal for each other and several friends they invite over to sit around the table and eat together. Once a week is about all they can handle with their crazy schedules, but it's a great tradition and their friends love it, too.
Have you ever made a family cookbook? Let me hear your ideas!
Find the Pineapple Upside Down Cake recipe on Farm Bell Recipes for the handy print page and to save it to your recipe box:
Pineapple Upside Down Cake
You can also find Mariah at Cat Feet Studio.

Interested in contributing a guest post to the Farm Bell blog? Read information here for Farm Bell blog submissions.

Want to subscribe to the Farm Bell blog? Go here.