Eggs Benedict is one of those simple dishes that turn breakfast into something special. It's nice for company, and even nicer on an ordinary day for no reason at all. Eggs Benedict is a combination of toasted bread, ham or Canadian bacon, poached eggs, and creamy, delicious hollandaise. The weekend is a great time to let breakfast stand out, so make it today!
If you don't have special poaching cups, you can poach eggs in a regular skillet. Here's how:
Using a skillet, add water to the depth of about two inches. Bring to a boil. Reduce to a simmer. Break eggs one at a time into a measuring cup.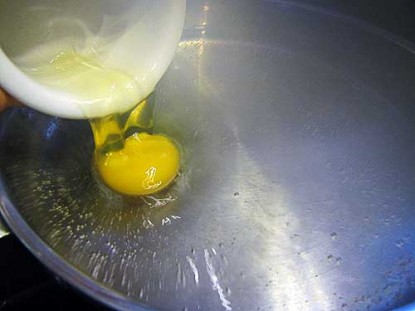 Slide each egg into the simmering water, holding the cup as close to the water in the skillet as possible. Leave space between each egg so eggs don't touch. Simmer eggs, 3-5 minutes, to desired doneness.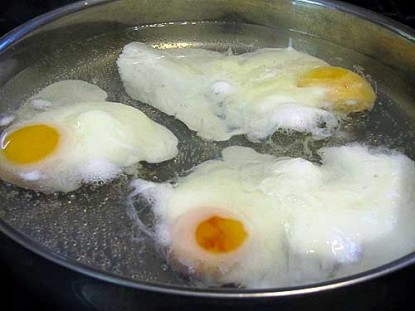 Is it just me, or do those eggs look like puffer fish?
Remove with a slotted spoon.
Voila, poached eggs!
Now for the hollandaise sauce–you can make real hollandaise, or a mock substitution, depending on what you prefer.
For real hollandaise sauce, you'll need:
1/2 cup butter (or margarine)
3 egg yolks, beaten
1 tablespoon water
1 tablespoon lemon juice
Cut butter into pieces and bring to room temperature. In a double boiler, combine egg yolks, water, lemon juice, plus a dash of white pepper and a dash of salt (to taste). Add about one-third of the cut-up butter. Cook, stirring rapidly, till butter melts and sauce thickens. Add remaining butter, a piece at a time, stirring constantly. Cook and stir until sauce thickens (1 to 2 minutes). Remove from heat. If sauce is too thick, add a little hot water.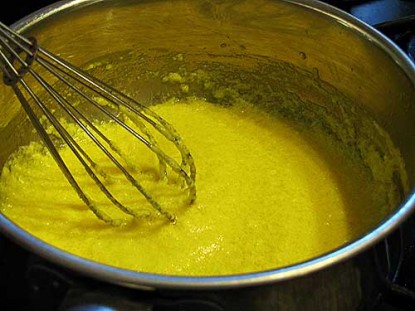 This makes about 3/4 cup.
To make a mock hollandaise, you'll need:
1/4 cup sour cream
1/4 cup mayonnaise
1 teaspoon lemon juice
1/2 teaspoon prepared mustard
In a small saucepan, combine all ingredients. Cook and stir over low heat till hot.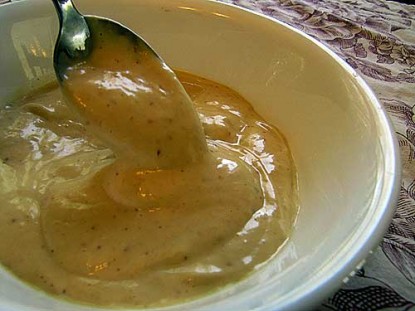 The mock hollandaise is easier and faster to make than the real, and it's good!
Now for the even better part–
How to make Eggs Benedict:
PER SERVING:
1 slice thick homemade bread or English muffin half
1 slice ham or Canadian bacon
1 poached egg
hollandaise sauce (or mock hollandaise sauce)
paprika or parsley
Toast bread. (I use Grandmother Bread.) Fry or heat ham or Canadian bacon. Poach eggs. Prepare sauce. Assemble as follows::
Place the toasted bread on a plate. Top with, in this order, ham or Canadian bacon, poached egg, sauce. Sprinkle with paprika or parsley, if desired.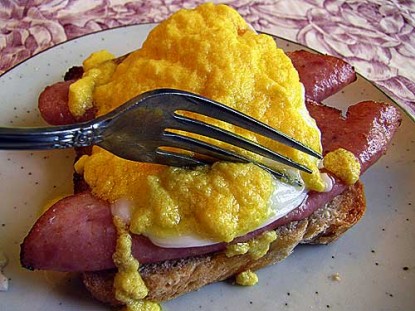 Go ahead, make breakfast fabulous this weekend!
Find these recipes on Farm Bell Recipes and save them to your recipe box:
How to Poach Eggs
Hollandaise Sauce
Mock Hollandaise Sauce
Eggs Benedict

Interested in contributing a guest post to the Farm Bell blog? Read information here for Farm Bell blog submissions.

Want to subscribe to the Farm Bell blog? Go here.