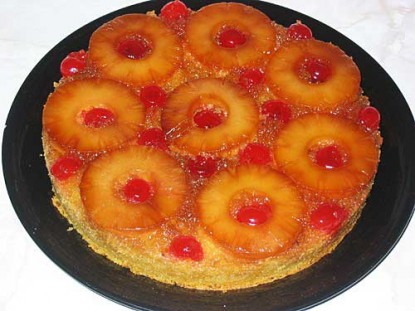 Difficulty: Easy
Servings: 8 large servings
Prep Time:
15 mins
Cook Time:
45-50 mins
Ingredients
1/4 cup butter, melted
2/3 cup packed brown sugar
1 can (20 oz) pineapple rings in juice, drained
maraschino cherries
1 1/3 cup flour
1 cup sugar
1/3 cup shortening or butter
3/4 cup milk
1 and 1/2 teaspoons baking powder
1/2 teaspoon salt
1 large egg
Directions
Heat oven to 350-degrees. Pour melted butter into a 10-inch round cake pan or a 9-inch square cake pan, so it covers the bottom. Sprinkle brown sugar over the butter. Arrange pineapple slices and cherries over the brown sugar. (Cherries with stems can be added after baking.) Beat remaining ingredients on low 30 seconds, then on high 3 minutes. Bake 45-50 minutes, or until toothpick inserted in the center comes out clean. Immediately turn upside down onto a serving platter. Let sit upside down for a few minutes to cool and then carefully remove baking pan.
Note: You can use a commercial yellow cake mix, made according to package directions instead of making the cake from scratch.
Categories: Cakes, Other Desserts
Submitted by: emlee125 on August 22, 2010