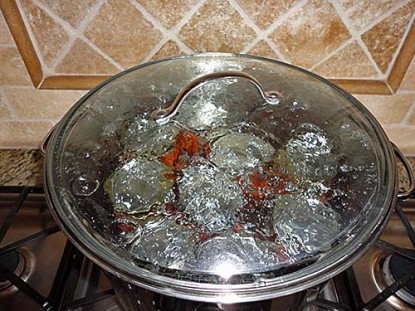 I found a recipe for bottled Sloppy Joe Sauce and decided that was the perfect solution to my problem of having too many frozen tomatoes in my freezer.
However, the recipe calls for 5 quarts of Tomato Juice. I didn't have tomato juice, I had tomatoes!
So began my journey to turn my frozen tomatoes into Tomato Juice into Sloppy Joe Sauce. Finding a juice recipe was quite easy, but finding one that sounded really good? That was a bit more difficult. After analyzing many options, I decided to write my own recipe for the Tomato Juice.
How to make Tomato Juice Sauce:
16 cups peeled and chopped tomatoes
2 cups onions
1 cup celery
2 Tablespoons sugar
2 teaspoon salt
1 teaspoon cumin
1 teaspoon garlic
1 Tablespoon Worcestershire Sauce
15 – 20 drops hot sauce
1/2 teaspoon black pepper
Mix all ingredients in a large, stainless steel pot. Simmer for 30-40 minutes or until the vegetables are well cooked and tender. Carefully blend small batches in a blender or put through a food mill.
Because my tomatoes were frozen, they had not been skinned or cored. This made my juice quite thick, almost more sauce-like. In fact, next time I think I will try using it as a tomato sauce!
The flavor was just right and in the end I had 17 pints of Sloppy Joe Sauce.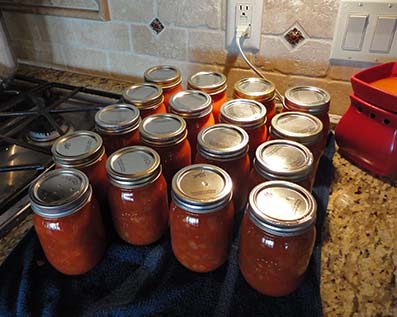 I am feeling much more prepared for summer time with this quick fix pantry staple on the shelf!


Get the handy print page and save this to your recipe box here:
Homemade Tomato Juice Sauce.

Dreaming of Poultry blogs at Dreaming of Poultry.

Do you have a recipe post or kitchen-related story to share on the Farm Bell blog? See Farm Bell Blog Submissions for information and to submit a post.

Want to subscribe to the Farm Bell blog? Go here.
Check out the latest blog contributor giveaway!