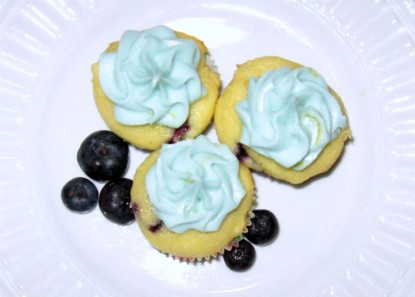 If you hadn't noticed, my last post was about blueberry cookies. Today…its blueberry cupcakes!
Next time will it be blueberry ice cream? crepes? fudge? You'll have to wait and see!
So I cheated a bit and used this recipe that I saw on "CupCake Wars" a few weeks ago. It was the winning recipe, so I thought I would have to try it.
I have to say right now that it calls for a LOT of butter. But the butter makes the batter so beautiful it's ok. I didn't even want to bake this batter, that's how glorious it is all by itself.
But if you bake it, its really yummy too!
I have lots of blueberries in my fridge. I have a big project planned with the rest, but I have to wait for meteorological conditions to be just right for it to work. Thankfully, cupcakes don't require specific barometric pressure or humidity levels so you can make these beauties any old time!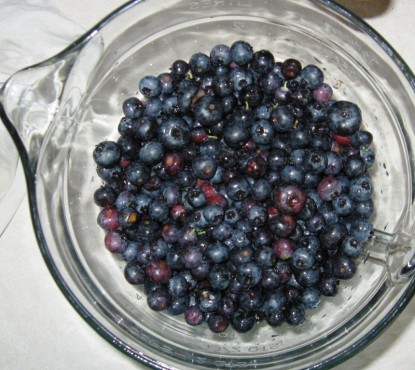 I used HALF the butter and HALF the sugar in the frosting recipe and it was still amazing. So there! That was my "cooking light" for 2011.
How to make Lemon Blueberry Cupcakes:
Cupcakes:
3 1/2 cups all-purpose flour
1 teaspoon baking soda
1/2 teaspoon salt
2 sticks butter
2 cups sugar
3 eggs
1 teaspoon vanilla extract
Zest of 1 lemon
2 cups sour cream
1 1/2 cups fresh blueberries
Frosting:
2 sticks butter
8 ounces cream cheese
1 teaspoon vanilla extract
Juice and zest of 1 lemon
10 to 12 cups powdered sugar
For the cupcakes: Preheat the oven to 350 degrees. Line cupcake tins with 24 paper liners.
Mix the flour, soda and salt together in a bowl. Set aside. Add the butter and sugar to a mixing bowl and cream until light and fluffy. Add the eggs 1 at a time and mix thoroughly. Add the vanilla and lemon zest and mix to combine. Add the dry mixture in 3 parts alternating with the sour cream, ending with dry mixture. Stir in the blueberries. Fill the prepared tins two-thirds full and bake 16 to 20 minutes. Cool.
For the frosting: Cream the butter and cream cheese until smooth. Add the vanilla, lemon zest and juice and blend until combined. Add the powdered sugar gradually until combined.
Frost the cooled cupcakes with the cream cheese frosting.

I hope you have as much fun as I did!


Get the handy print page and save this to your recipe box here:
Lemon Blueberry Cupcakes.
Rachel blogs at The Henway.

Do you have a recipe post or kitchen-related story to share on the Farm Bell blog?
See Farm Bell Blog Submissions for information, the latest blog contributor giveaway, and to submit a post.

Want to subscribe to the Farm Bell blog? Go here.
What can you enter to win this month? Click here.