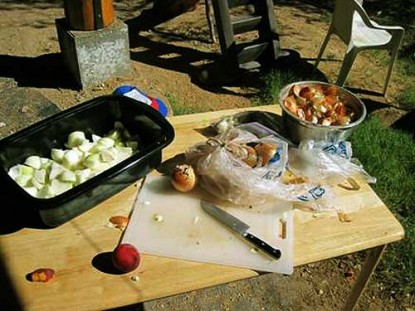 KDBeads' blog
, and a similar one for caramelized onion jam I found at
Taste of Home
. This is how I ended up making my recipe—because I had different ingredients, or because I don't like mustard seed, or because I am lazy.
Difficulty: Easy
Servings: 6 half-pints
Prep Time:
1 hour
Cook Time:
15 minutes
Ingredients
4 whole garlic bulbs
1 teaspoon canola oil
5 cups chopped onions, 1 1/2 pounds (I used brown, white, and the orphaned onions from the garden)
1/4 cup butter, cubed
3/4 cup cider vinegar
1/2 cup bottled lemon juice
1/4 cup balsamic vinegar (I used regular balsamic, but next time I would use white balsamic so the onions would remain "white"—plus it is sweeter)
1-1/2 teaspoons ground mustard (PATOOOIE!  I used cumin and coriander)
1 teaspoon salt
3/4 teaspoon white pepper
6 cups sugar
1 pouch (3 ounces) liquid fruit pectin  (I used regular pectin–the liquid stuff is hard to find here)
Directions
Peel and coarsely chop onions and garlic. Toss in crock pot with apple cider vinegar. Cook until onions look slightly clear and a few are lightly browned. You may need to add a bit of water to prevent the ACV from cooking completely off.
Once cooked, chop onions with hand blender—or semi-puree in food processor.
Stir in the cider vinegar (if not already used), lemon juice, balsamic vinegar, and spices. Bring to a rolling boil.
Gradually add sugar, stirring constantly. Return to a boil for 3 minutes.
Add pectin; bring to a full rolling boil. Boil for 1 minute, stirring constantly. Remove from the heat; let stand for 3 minutes. Skim off foam. Pour hot mixture into hot jars, leaving 1/4-in. headspace. Adjust caps. BWB 15 minutes.
Categories: Boiling Water Bath, BWB Other, Canning, Preserving
Submitted by: laree on October 10, 2010