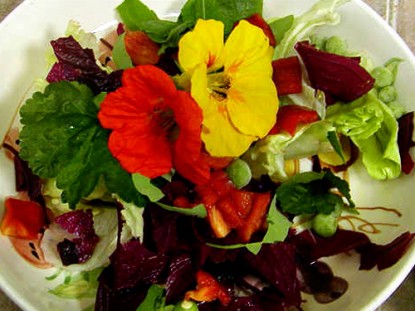 There are few things as rewarding as making a salad for dinner directly from your garden! I love to take a walk through the garden before dinner, collecting things for the salad. It's relaxing as well as productive.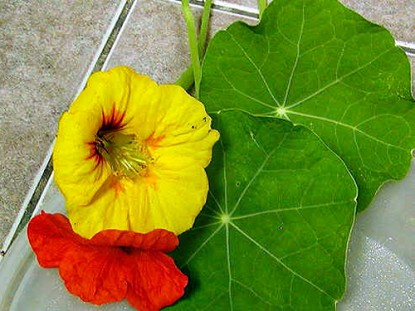 In the spring and early summer we are eating our own lettuce and spinach. These days I start the salad with iceberg lettuce. I know it's not as healthy as the darker green lettuces, but it's hubby's favorite, so I use it. In addition to the lettuce I added a few nasturtium leaves from the garden. Nasturtiums as a bit peppery so be careful how much you use! The flowers are edible and make a beautiful garnish.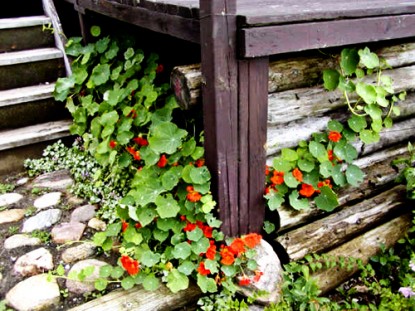 One of the things we grow that is great in a salad, is amaranth. Last year I grew "Intense Purple" amaranth in the flower garden but it gets big and the leaves got a bit big and tough for salad by the end of August.
The smaller, newer leaves are more tender. This year I grew "Vietnamese Red" amaranth, as it is smaller but has the same intensity of color. Pictured below are both types.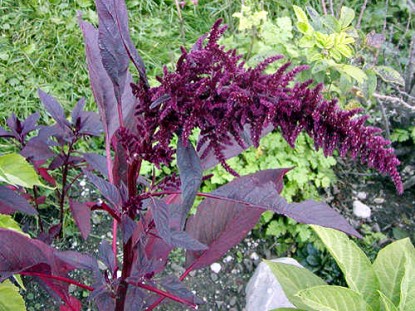 Amaranth seed is used around the world as a grain source and I have read that the roots are an excellent vegetable. In China the immature leaves and stems are used in stir fry and are a good addition to salad eaten raw.
Amaranth was used by the Hopi Indians as a source of deep red dye. Looking at my hands after collecting the seed today, I can see that it would make a good dye. I immediately thought of organic soap color. Hmmmmm. I will have to give that a try!
I collected a large amount of amaranth seed today for selling on the farm store.
Another usual addition to my salad is the malva moschata leaf. It's a mild edible leaf that is high in vitamin A. I often use it in salad with the violet leaves. Violet leaves are very high in vitamin C.
Chive flowers add a nice purple color to salad. I don't have any growing right now but I did cut a few chive leaves to add. I like their mild onion flavor and some of mine are garlic chives. My chive seeds from this year are a cross pollinated mix of the two.
I don't think any salad is complete without raw peas. We grew these earlier in the spring and froze them without blanching, so they would be crisp in salads. I drop a hand full in a cup of very hot tap water and let them sit while I finish the salad. At that time they are perfectly thawed!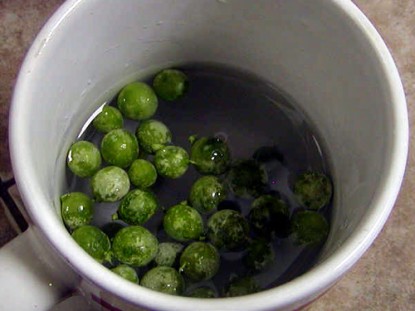 I added a tomato fresh from the garden, of course. We have a lot of tomatoes right now! This one is a paste tomato which is not as sweet, but meatier. I used it because it is what I had on hand.
I also added a small green bell pepper directly from our garden!
How can we have a healthy salad without broccoli? Raw broccoli or cauliflower are both excellent in salad and, being brassicas, are high in anti-oxidants. We did not grow either one this year, so have to use the ones from the frozen bag bought at the grocery store. It's still broccoli, even if we didn't grow it ourselves.
Don't forget to add the ground cherries! They are absolute delicious in salad!
Last but not least is the cheese. I love Parmesan and eat it on everything, including salad. I also add little pieces of cheddar or feta, if I have it.
We like ranch dressing, or sometimes zesty Italian or Caesar. I like to keep zesty Italian on hand for cooking too.
I have considered making a "salad garden" near the kitchen where I keep all my salad ingredients. I have not made this move yet, but might soon. It's a time thing. I HAVE NONE!!
Do you grow all of your salad ingredients? Don't you just love collecting fresh things that you grow yourself and eating them raw? What could be healthier than that?

Sheryl blogs at Providence Acres.

Interested in contributing a guest post to the Farm Bell blog? Read information here for Farm Bell blog submissions.

Want to subscribe to the Farm Bell blog? Go here.