Today inspiration came in the form of bread.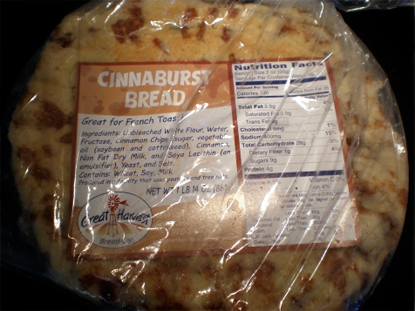 I am now living in a town that has a Great Harvest bakery and I must use restraint, needless to say I have a frequent flyer card with them. I LOVE their variety called Cinna Burst, especially made into french toast…..mmmmm….
We also stocked up on some groceries the other day and bought a tub of blueberries. After handfuls and handfuls, maybe even a bowlful in there too, I was blueberried out and needed to do something with the rest.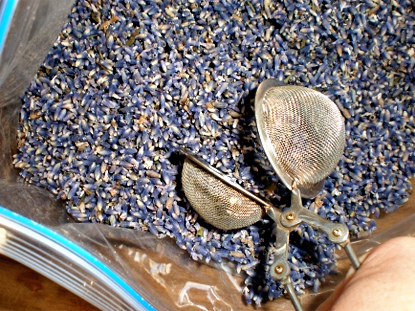 I decided to make a compound butter with the berries, and heck might as well add some lavender… cause that's what I do.
How to make Blueberry Lavender Butter:
I don't keep track of amounts so this is approximate:
2 cups blueberries
1/4 cup water
2 Tablespoons honey
2 teaspoons culinary lavender (I'm using Royal Velvet)
1 stick butter
I put all ingredients, except butter, in a saucepan and simmered it until reduced by half. I put the lavender into a tea-ball straining spoon and used that to stir the blueberry mixture, leaving it in the pan to steep the whole time.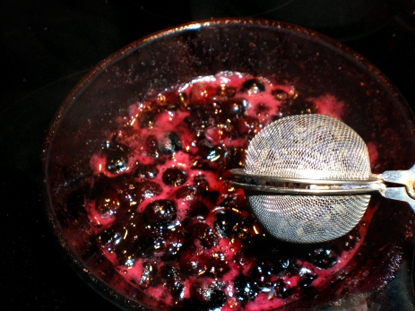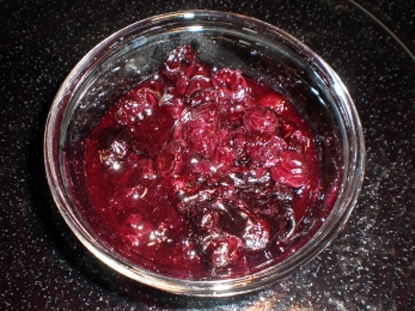 After the blueberry mixture was cool I blended it up with 1 stick of butter.
Then I put it into a zip-lock bag pushing it down in the bottom to form a log, and back in the refrigerator it went until firm.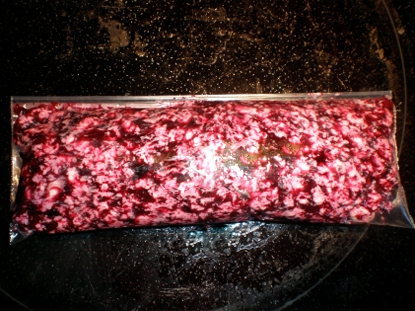 After thoughts–I loved the lavender and blueberry combination and will definitely do that again in other venues. I should have used more honey, as the blueberries were not sweet enough. I also should have used unsalted butter to realize more of the flavor from the berries and lavender with out the salted distraction, however that was all I had in the house. I also had to refrigerate the blueberry mixture for a bit while I ran to a meeting. Upon returning I just dumped the cold berry mixture in with the room temp softened butter and it made it so the butter didn't whip properly, a little too cold, I should have left it at room temp too.
All in all, YUM! Compound butters are scrumptious–sweet or savory!


Get the handy print page and save this to your recipe box here:
Blueberry Lavender Butter.

Ann blogs at Lavender Bundle.

Do you have a recipe post or kitchen-related story to share on the Farm Bell blog?
Read information here for Farm Bell blog submissions.

Want to subscribe to the Farm Bell blog? Go here.