You know how sometimes the stars align and nothing goes your way?
Have you ever noticed when you are sick, the gravitational pull of your snot-filled head makes this astrological phenomenon two or three times stronger?
And if everyone in your house is sick, not only will the heavens be outta whack, but Brownies have hidden all your clean pants and the last box of tissues? Not Girl Scout cookie-peddling Brownies with sashes and badges–the tiny mystical Brownies who like to fix shoes and cause mischief when not properly appeased with chocolate-y treats?
Never mind.
This is a story of failure, success, and loss–-one most can relate to. It is a tale of a sick girl and the cake/scones that wouldn't be. You may find it unsatisfying since there isn't a real recipe at the end–I apologize in advance.
Everyone in the house was sick. There was stuffiness and congestion. There was fatigue, achiness, and crankiness. There was a serious lack of coffee.
I needed to make a breakfast that:
1. Everyone would eat. I had no patience for picky eaters.
2. We could taste.
3. Could be made quickly, since I needed to lay down.
4. Had higher caloric value, since no one was eating, (or I cooking) otherwise.
5. Didn't have the consistency of mucus.
6. Had extra Vitamin C. Or potassium. Or DayQuil. I don't know, I wasn't thinking straight.
My original plan was to make banana cake with orange zest or cranberries. I pulled the frozen bananas out of the freezer and had them half-way defrosted before I realized I was out of sour cream and sugar.
The New Plan–Scones! So I pulled out the flour, the salt, the cranberries and–Oh wait! There is no baking soda or butter.
Seriously? Brownies must be stealing my staples!
The New-New Plan–take the defrosting bananas and use them as a butter substitute. Mix in the flour, the salt, an egg or two, a handful of cranberries, that golf-ball-sized rock of brown sugar, and a blub-blub of milk. Drop biscuit-sized lumps onto a Silpat, bake at 450 for 15 minutes, and hope for the best.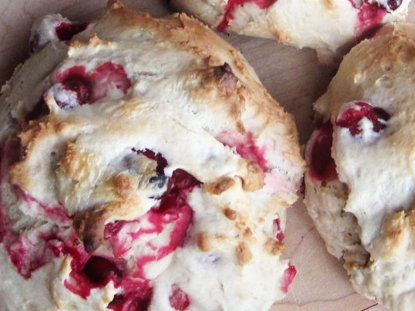 Hey, hey! What happened here? These were delicious. Scrumptious even. And that's not the DayQuil talking.
These, scruffits (?) were so good the brother-in-law and the husband requested them again. Too bad I didn't have a pen, or paper, or a charged laptop battery to record the recipe. Or have enough brain cells to remember exactly how I made them.
Apparently, I did take pictures of the scruffits. Perhaps to remind myself to make them again?
I may never know, but I think I will give them another shot. Maybe the stars will be in alignment and I will have all the ingredients on hand, a pen and paper, and the will to record the recipe.
I can only hope.



Larissa blogs at The Henway.

Do you have a recipe post or kitchen-related story to share on the Farm Bell blog?
Read information here for Farm Bell blog submissions.

Want to subscribe to the Farm Bell blog? Go here.