When I think "Homemade Noodles", I think egg-noodles–every noodle recipe I'd ever come across had eggs in them. Even the recipes included with the pasta machine all have eggs in them!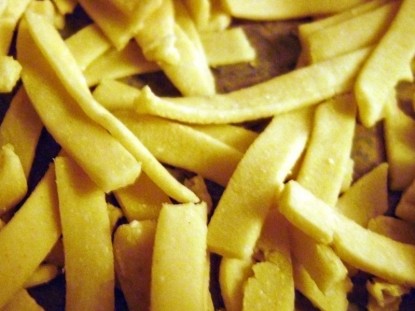 But if you look at the ingredient listing on a box of store bought pasta–semolina, durum flour, niacin, ferrous sulfate (iron), thiamine monoitrate, riboflavin, folic acid; processed in a facility that uses egg–eggs aren't in there! Sure enough, semolina flour by itself makes a great noodle or pasta! It's what we eat when we buy the boxes out of the store.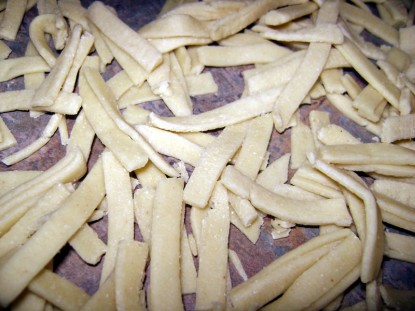 How to make Homemade Egg-less Noodles/Pasta:
Mix together 2 cups semolina flour, 1/2 tsp salt, and 1/2 cup warm water. It will be quite dry like until you start kneading it all together. If you have a pasta machine that mixes everything together, follow those instructions. I use the food processor. It's a lot stiffer than kneading bread or egg noodles. But it needs to be kneaded quite a while in order for the gluten in the semolina flour to be worked through.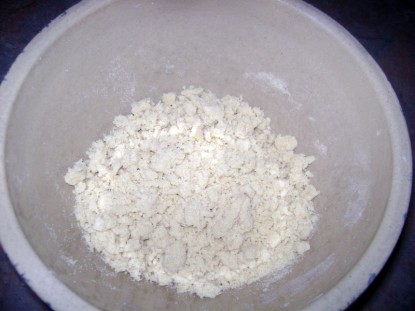 Knead for about 10 minutes until it is nice and elastic-y. Roll quite thin. I did this with my pasta machine, but you could do it just as easily with a rolling pin.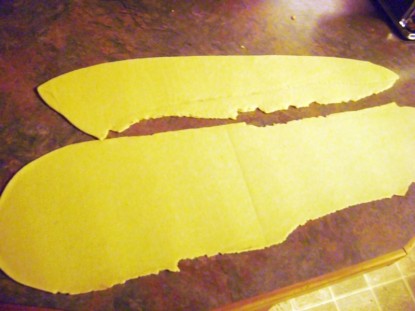 Cut as desired. This recipe makes all of this! Both flat and spaghetti noodles.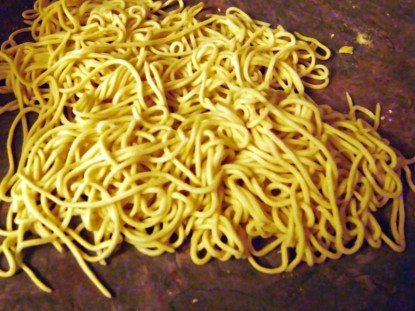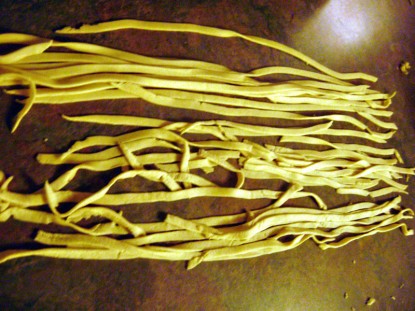 Now, you can use it fresh, hang it to dry to store, or wind into a nest and freeze it.
That's all there is to it! Egg-free noodles! I was quite impressed with the texture and taste–just like the store boxed noodles, only better. Never before would I have believed a homemade noodle without eggs would taste good. I probably won't give up my egg noodles for the homemade chicken noodle soup, though!


Get the handy print page and save this to your recipe box here:
Homemade Egg-less Noodles/Pasta.
Cindy blogs at Chippewa Creek ~ Our Life Simplified.

Do you have a recipe post or kitchen-related story to share on the Farm Bell blog?
See Farm Bell Blog Submissions for information, the latest blog contributor giveaway, and to submit a post.

Want to subscribe to the Farm Bell blog? Go here.
What can you enter to win this month? Click here.