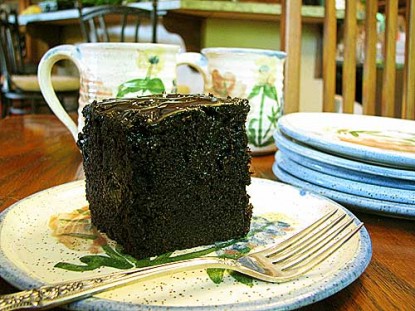 As soon as I saw this cake, I knew I had to make it this weekend for Weston's vegan girlfriend. She comes over almost every Sunday, presenting a weekly challenge to my cooking skills. (Which are currently challenged enough without an oven.)
This rich chocolate cake was posted here by NorthCountryGirl. It's a super-most, rich cake yet has no eggs or milk. The recipe originated, as many of those old recipes that call for no butter, eggs, or milk did, in wartime as the home cook's MacGyver response to shortages. In its original form it called for water, but NorthCountryGirl, who got the recipe from her sister-in-law, Gloria, came up with the substitution of coffee, which makes it even richer and darker.
This cake absolutely lived up to its rich, dark, moist, chocolaty promise and was a hit here! Even if you have all the eggs, butter, and milk you need and aren't vegan, this cake is worth the bake.
How to make Gloria's Dark, Moist Chocolate Cake:
3 cups all-purpose flour
2 cups sugar
2/3 cups cocoa
2 cups cold coffee (or water)
2/3 cup vegetable oil
1 1/2 teaspoons salt
2 teaspoons vanilla
2 1/2 teaspoons baking soda
2 teaspoons white vinegar
Combine flour, sugar, cocoa, coffee or water, oil, salt, and vanilla.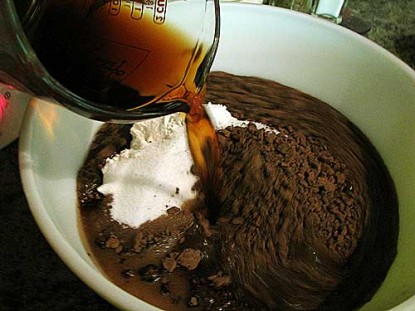 Mix until a smooth batter is formed. Do not over mix as this may cause the cake to become tough.
I wasn't quite sure how much mixing was overmixing, but I used an electric mixer long enough to get most of the lumps out.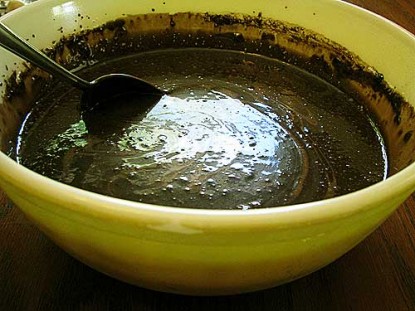 Mix soda and vinegar until soda is dissolved.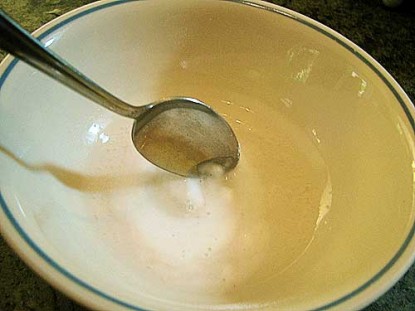 Add to cake batter and mix thoroughly. Bake for 30-40 minutes at 350-degrees using a 9 x 13 pan or two round cake pans. Or, if your oven is broken, you can bake it in a crock pot!
I used a 6-quart crock pot and baked it on Low for about 5 hours. If you use a crock pot, keep an eye on it to see what works for your crock pot. It should bake in 4-6 hours. Test until a knife inserted in the center comes out clean.
Since I was baking it in a crock pot, which didn't make frosting an easy thing to do, I decided to poke holes all over the cake and drizzle the top with Hershey's syrup.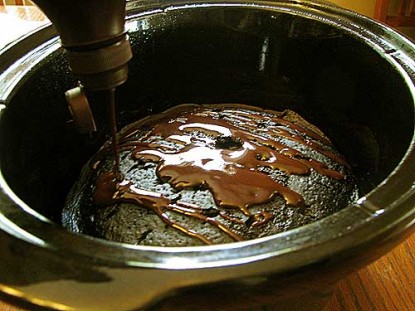 The chocolate syrup made this very chocolaty cake even more chocolaty.
I have to admit that this whipped cream isn't vegan.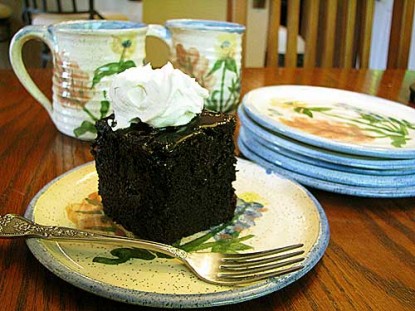 But I couldn't help myself!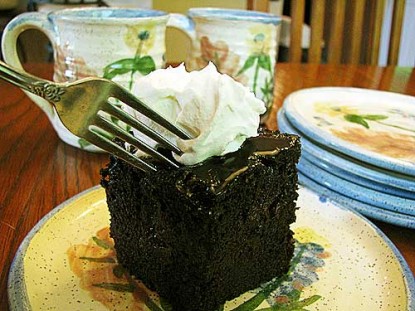 Want a bite?
P.S. See the original recipe here where you can also get the handy print page. You need this cake in your life today!