"Roman emperors dined on dressed lettuce, and ordered served on plates of gold, radishes so thin that the gold gleamed through." From Italy and early Greece, the custom of mixing greens with oils and herbs traveled to Spain and France where the people lovingly adopted it. When Catharine of Aragon went to England as the bride of Henry the IIX, it was necessary for the royal household to send abroad to get greens to please her accustomed taste. In time, the French and Spaniards introduced salads to America.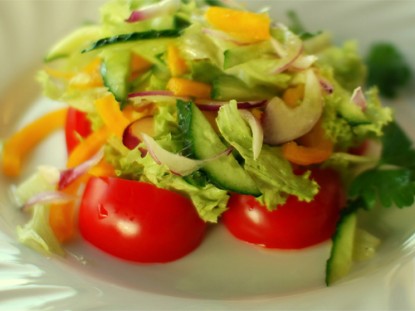 Thank goodness they did! Salads are very popular and come in so many different varieties–different greens, different dressings, different vegetables, different meats–the combination possibilities are endless in a greens-type of salad alone.
A variety of Salad Greens:
Use alone or combine one or more together
Head Lettuce

Lettuce–Head, Boston, Great Lakes
Chicory
Endive
Escarole
Dandelion Greens
Romaine

Spinach

Spinach
Nasturtium Leaves
Watercress
Mint
Cabbage
Ramps
Secrets for a great "greens" salad:
Go for a contrast of texture, color, form and flavor with your greens, fruits or vegetables to combine in salads. Be an artist!
Use a light, delicate dressing on a salad when you're pairing it with a substantial meal. A more substantial dressing on a salad that's part of the main dish.
Use an olive oil or a mild vegetable oil for your dressing. Choose a mild cider or wine vinegar, maybe with some herbs–tarragon, basil or garlic gives a different and interesting flavor. If the vinegar is sharp, dilute with water.
Try lemon juice in place of the vinegar.
Toss ingredients lightly–do not bruise or crush the greens.
Toss in dressing sparingly–too much makes for a limp salad.
Cold and crisp–keep salads and dressings in the refrigerator until just before ready to be eaten. On hot summer days, chill the plates or bowls.


The Lettuce & Greens category is growing larger and larger here on Farm Bell. Here are just a few: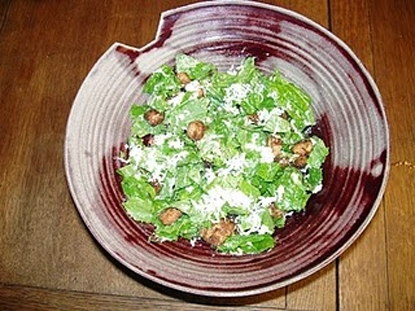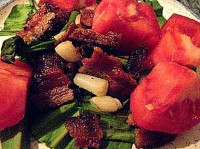 * * * See all of the Lettuce & Greens Recipes * * *
How about some
Dressings
to go with your greens?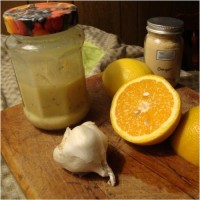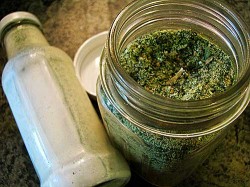 * * * See all of the Dressings Recipes * * *
Do you have a spectacular salad or dressing you love to make or eat?
Submit it!
See all the Cookery 101 posts

Do you have a recipe post or kitchen-related story to share on the Farm Bell blog?
Read information here for Farm Bell blog submissions.

Want to subscribe to the Farm Bell blog? Go here.