For hundreds of years, dried fruits have been popular for their convenience of storage and concentrated flavor and sweetness. We seem to have gone full circle from fruits dried on rocks in the sun, to commercially dried fruits packaged in convenient little boxes and pouches, and back again to the interest in making our own (and knowing what's NOT in there).
Raisins are easy if you have a dehydrator. Sun-drying is possible, but I prefer to use a dehydrator.
I have been fortunate on several occasions to be able to buy flats of grapes for as little as $4. I usually juice them in the steam juicer (what we don't eat) and give some away. I need to make more raisins!
I wash the grapes well in running water and let them air dry a bit. These were beautiful red grapes.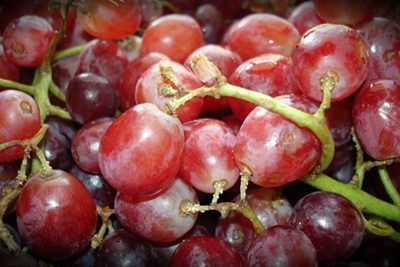 You need to pierce the skins – this helps them dry evenly and faster than with the skins intact. I thread them on a metal skewer; slip them off when the skewer is full; repeat.
Doing this while watching TV isn't a bad idea.
Load the prepared grapes onto the dehydrator trays and let them get going.
Here they are after 12 hours: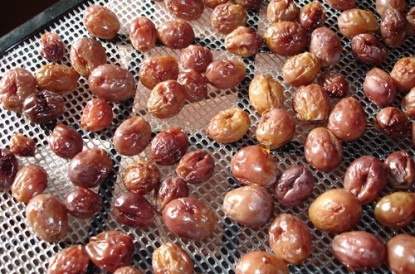 After 24 hours: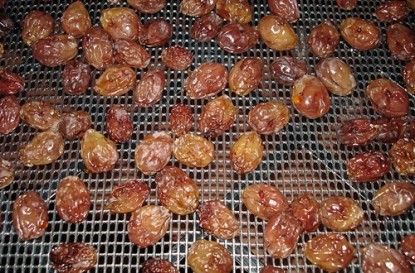 After 36 hours:


And getting closer to RAISINS!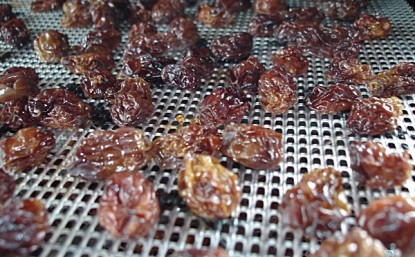 The amount of time it takes from start to finish varies widely – the size of the grapes, the juiciness, your dehydrator, and the humidity can all affect the drying time.
But 'homemade' raisins are definitely the BEST – plump, juicy, huge and delicious!
I wanted to show you how nice they are when finished – but we ate 'em.

You can also find Dede ~ wvhomecanner at Yahoo's Canning2 Group.

Do you have a recipe post or kitchen-related story to share on the Farm Bell blog? See Farm Bell Blog Submissions for information and to submit a post.

Want to subscribe to the Farm Bell blog? Go here.