A fish boil is to the Great Lakes like a clambake is to New England. It is a big festivity around the Great Lakes in the summer and fall and is normally done outside over a fire pit in a huge pot with a basket to lower the ingredients into the boiling water. Fresh caught whitefish and trout are the normal fish used, but salmon is good, too!
The first time I heard of a fish boil, it did not sound appetizing–I did not think I would like boiled fish. But I was wrong. It is very, very good! And apart from the salt needed, it's a very healthy dish.
The last couple family salmon fishing trips have been successful. We were going to have a fish boil outside. But along with the great fishing came some great rains. But I persevered and adapted it to inside on the stove.
How to make Fish Boil: Printable
Normally, you would use some small red potatoes, whole onions, and fish steaks or chunks. Of course, use what you have!
Bring a bit pot of water to a boil with salt (1 pound of salt per 6 pounds of fish you're going to use). I used my steam canner pot. Worked wonderful! If you have a pot with a strainer or a basket, it will be much easier to get everything out at the end.


Add potatoes (2 or so red potatoes per person). I use carrots in my fish boil, too. Add these now, also. Also, I didn't use the red potatoes–I had lots of regular russets, so I used those and chunked them up. After it comes back to a boil, boil for 10 minutes.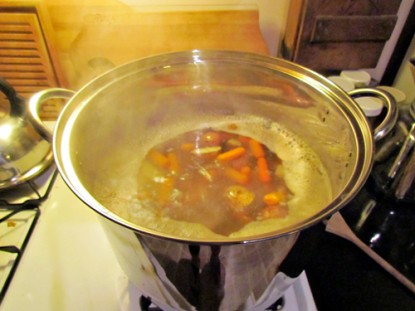 Add the onions (1 medium sized onion per person). Normally these are left whole. I didn't. I diced them up. When the water comes back to a boil, boil for 4 more minutes.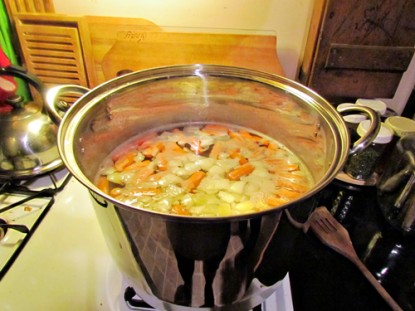 Add the fish. I used chunked up salmon. Use about 3/4 pound per person. After the water comes back to a boil, boil for 10 minutes or until the fish flakes easily.
When this is done outside, the fish oils will come to the top (and by this time the water is close to the top of the pot) and kerosene is added to the fire to create a hot fire causing a boil over, so the frothiness boils over. This is also a signal that the boil is done and it's time to eat!!
If you're doing it on the stove, skim this frothiness off–it's fish oil and starch, not always so tasty!

When the fish boil is done, strain the fish and vegetables out. I used a large strainer ladle. This is where the basket would come in handy!
To serve, place pieces of fish and vegetables in a bowl and ladle melted butter over the top. Wonderful stuff!
Cindy blogs at Our Life Simplified.

Do you have a recipe post or kitchen-related story to share on the Farm Bell blog?
See Farm Bell Blog Submissions for information, the latest blog contributor giveaway, and to submit a post.

Want to subscribe to the Farm Bell blog? Go here.
What can you enter to win this month? Click here.