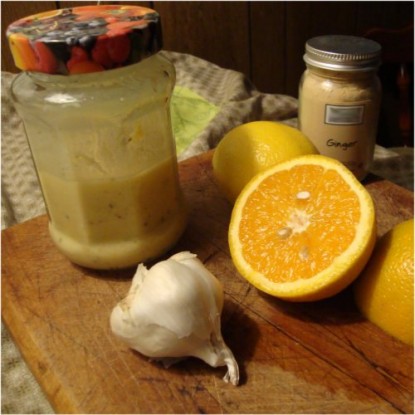 Difficulty: Easy
Servings: 12
Prep Time:
4, maybe 5 minutes?
Ingredients
Dash of salt
1 tsp ground pepper
1 tsp sugar
1 tsp ground ginger
1 tsp minced garlic
1 Tbsp vegetable oil
2 Tbsp lemon juice
1/2 cup orange juice
2 oz plain yogurt
Directions
Put everything in a bottle or jar and shake (I keep a pretty jam jar on hand!); chill and serve over your tossed salad!!!
** I usually skip the 'chill' part because I only notice at the last minute that I need salad dressing! It easily keeps a week in the fridge, probably much longer, but it doesn't hang around my house that long.
Categories: Dressings, Marinades, Other Salads
Submitted by: buckeyegirl on August 25, 2010