I am a cookie lover, so I'm always on the look-out for new cookie recipes that inspire me and make me drool. When I was a kid, my mother never made a lot of different cookies. She had her repertoire, especially around the holidays, and it was always the same cookies. My mother loved to cook and she was a wonderful cook, but she wasn't all that adventurous about it. She knew everybody's favorites and stuck with them, sure to please. Sometimes I think my kids wish I would be a little less adventurous and just bake their favorites.
But I can't help myself. I have to try new things.
I came across this recipe, chock-full of raisins and coconut, so much so that my kids would turn up their noses and roll their eyes and possibly die. I plucked out the vanilla and peanutty goodness, drawn to the opposites-attract combination of sweet and salty, to come up with this adaption that makes everyone happy.
Especially me. A little bit adventurous, and a little bit safe. A win-win!
How to make Vanilla Salted Peanut Cookies:
3/4 cup shortening
2 cups packed brown sugar
1/2 teaspoon baking soda
1/4 teaspoon salt
2 eggs
1 tablespoon vanilla
1 1/2 cups all-purpose flour
2 cups old-fashioned oats
1 1/2 cups salted, roasted peanuts
Preheat oven to 375-degrees. In a large bowl, beat shortening with an electric mixer for 30 seconds.
This meant more fun with my new-old KitchenAid.
I used the whisk. Maybe I should have used the flat beater. I'm still figuring out the KitchenAid.
Add brown sugar, baking soda, and salt. Beat again, scraping sides. Beat in eggs and vanilla until combined.
There is a lot of vanilla in this cookie. I love vanilla.
Add flour; beat. Stir in oats and peanuts.
There are a lot of peanuts in this cookie, too. I love peanuts. This recipe is perfect.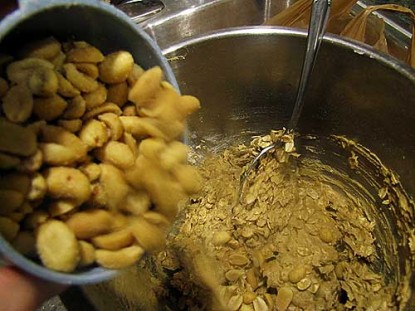 Bake on a greased cookie sheet at 375-degrees for 7-9 minutes. Cool. Devour.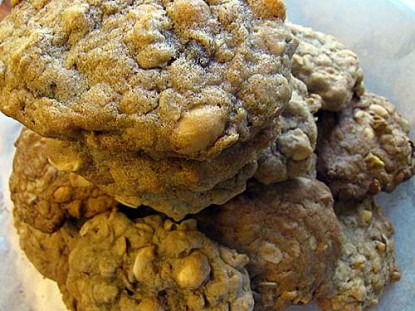 Makes 2 1/2 to 3 dozen, depending on size.
See this recipe on Farm Bell Recipes for the handy print page and to save it to your recipe box.
Vanilla Salted Peanut Cookies.

Interested in contributing a guest post to the Farm Bell blog? Read information here for Farm Bell blog submissions.

Want to subscribe to the Farm Bell blog? Go here.