As the leaves change and the air becomes cool and crisp, my mind starts wandering…which, at work, is not really a good thing. But it seems that most of my childhood memories revolve around autumn, our old farmhouse on the hill, and food. My mom has never been much into cooking but she did have a few specialities that will forever remind me of her. I think if one were to ask any of us kids what they remember most cooking-wise about my mom, it would be her Sniksnax.
Most people know this mixture as party mix or Chex mix and I'm not really sure how it came to be known as Sniksnax. But they are Sniksnax to us and forever will be. Mom, with the help of my dad (which is crazy because he was always forbidden in the kitchen and this was the only time he was actually invited into the kitchen) put together this production. Dad had the very important role of taste-tester to make sure there was just the right amount of Worcestershire sauce.
There were many rules for making Sniksnax. They were made only once a year. The time fluctuated year to year, but it was usually a week after the annual Christmas tree fight (don't ask) but well before Christmas so that the Sniksnax had plenty of time to season. The Sniksnax were always made en masse and were always put into bread bag lined Maxwell House coffee cans (the blue tin kind) and placed neatly into the big freezer chest in the basement. The Sniksnax were never made more than once a year and were always made to last until New Year's. The biggest Christmas crime would be sneaking into the freezer and swiping some Sniksnax before they were properly seasoned. My oldest brother Jeff was the only one of us brave enough to attempt this feat and he only did it once.
My grandmother made Sniksnax, my aunt made Sniksnax, and now I make Sniksnax. I make it about a week after the Christmas tree is chosen, I only make it once (maybe twice) a year, I store it in bags in our freezer, and we make it last throughout New Year's Day. But it never has, and it never will, taste as good as my mom's.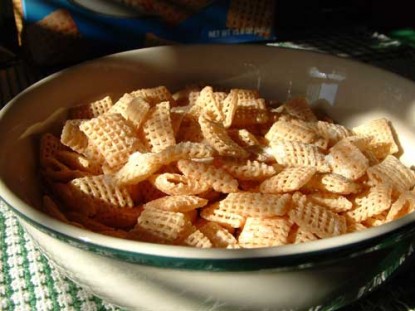 Mama Arnold's Sniksnax:
about 10 cups assorted square cereal: wheat, bran, corn, or rice
about 3 cups of toasted oats cereal
1 1/2 cups pretzel sticks
1 can of mixed nuts
1/2 cup (1 stick) butter
2-3 tablespoons Worcestershire sauce
1/2 teaspoon seasoned salt (or to taste)
1/2 to 1 teaspon garlic powder (or to taste)
1/2 to 1 teaspoon onion powder
Mix the cereal, pretzels and nuts together in a large bowl. Melt the butter slowly in a saucepan and add the seasonings. In a large roasting pan, cover the cereal/nuts/pretzel mixture with the butter mixture and mix well. Heat at 250 degrees for about an hour and stir thoroughly every 10 minutes. Cool on paper towels.
See this recipe on Farm Bell Recipes for the handy print page and to save it to your recipe box:
Sniksnax
You can also find Beth at One Old Goat.

Interested in contributing a guest post to the Farm Bell blog? Read information here for Farm Bell blog submissions.

Want to subscribe to the Farm Bell blog? Go here.