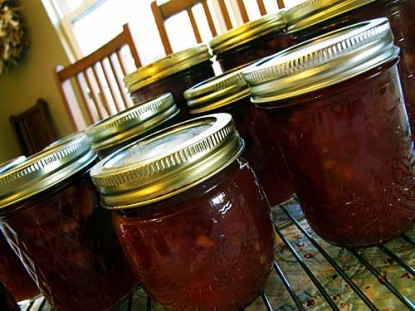 Difficulty: Easy
Servings: 9 half-pints
Prep Time:
1 hour
Cook Time:
15 minutes
Ingredients
2 cups mashed bananas
1/2 cup lemon juice
2 cups crushed strawberries
1 1/2 cups crushed pineapple
1 cup halved maraschino cherries
1 package powdered pectin
5 cups sugar
1/2 cup chopped walnuts
optional: 1/2 cup banana rum (or dark rum)
Directions
Mix lemon juice into bananas immediately after mashing to retain the fresh color then combine all the fruit and the pectin in a big pot. Bring to a boil, stirring frequently. Add sugar (and a dab of butter to reduce foaming). Bring to a rolling boil; boil hard one minute. Remove from heat and add nuts and rum (if using). Ladle into jars, leaving 1/4-inch headspace. BWB 15 minutes. Serve over ice cream with whipped cream and chocolate syrup!
Categories: Boiling Water Bath, BWB Marmalades & Conserves, Canning, Preserving
Submitted by: suzanne-mcminn on October 9, 2010