Mother found this recipe while I was in college–we never had squash of any kind growing up. My father used to tell a story about squash and his brother Conrad. After their oldest sister Doris got married and was living in Charleston, the family went there for Sunday dinner. Aunt Doris' husband, Uncle Scratch (he used to pay the children a nickel to scratch his feet, and would always let us feel where he said he had blown off a toe with a shotgun–I never saw him with his socks off) came from a Raleigh, North Carolina family of hotel-keepers, and was full of Southern hospitality and salesmanship. Uncle Conrad, who was quite small at the time, ate all his squash first to get rid of it so he could enjoy the rest of his meal. Uncle Scratch, seeing Conrad enjoy the squash so, insisted on giving him a second helping. The unfortunate Conrad didn't catch on, ate it all quickly again, and ended up with a third serving.
His mother, my grandmother, always said "Eat what's set before you, even if it is a frog."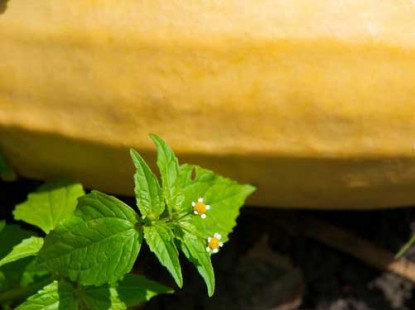 Squash Casserole
2 cups cooked summer squash, diced
¼ cup milk
¼ cup melted butter
3 eggs, well beaten
1 tablespoons grated onion
salt, pepper, cayenne
¼ cup buttered bread crumbs
Mix all ingredients except bread crumbs and put in baking dish. Top with bread crumbs. Bake at 350° until firm (about 25 minutes).
Recipe credit–Anna Mary McVaney deGruyter.
Find this recipe on Farm Bell Recipes to get the handy print page and save it to your recipe box:
Squash Casserole

Lisa blogs at Lisa deGruyter: Bits from One Woman's Life.

Interested in contributing a guest post to the Farm Bell blog? Read information here for Farm Bell blog submissions.

Want to subscribe to the Farm Bell blog? Go here.