I love making bread. I've been making homemade bread since I was a teenager. That's a long time.
We've got 3 pages of terrific yeast bread recipes on Farm Bell Recipes and yet I know there are those folks who are still afraid to jump in the bread making bowl. Kerrie had a great post, Falling in Love with Bread Again, a couple weeks ago–there seems to be quite a few people who like the no-knead type of breadmaking, also!
I've got a recipe that produces a wonderful bread with a terrific crunchy crust and tender inside AND it's also a no-knead bread. In fact, it takes less than 2 minutes to mix this bread. Let's get started.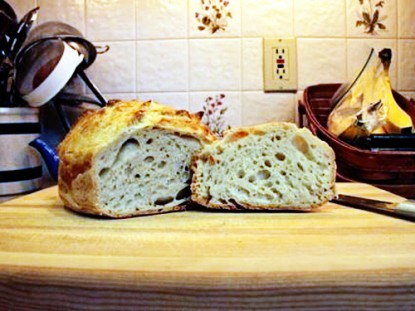 How to make Simple, No Knead Bread: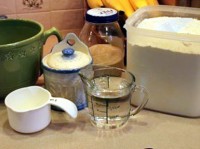 The ingredients are simple:
3 cups of flour
1 1/4 teaspoon salt
1/4 teaspoon yeast
1 1/2 cups water


Measure your flour into a mixing bowl.
Add your salt and yeast. That's not a typo, this recipe only uses 1/4 teaspoon yeast.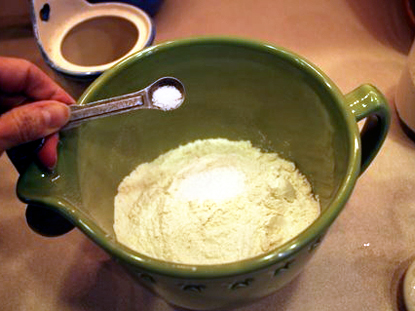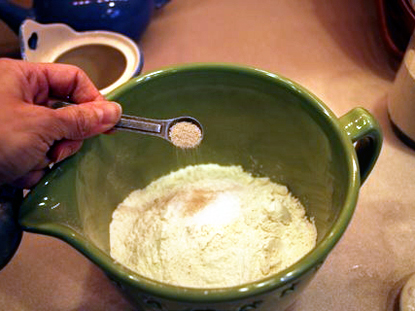 Mix dry ingredients to combine.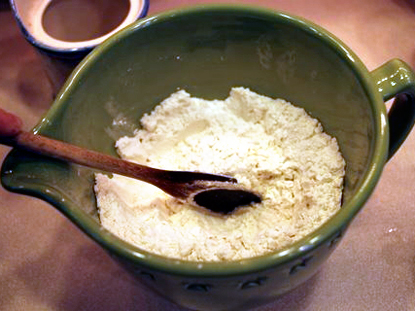 Add your water.
Stir until all the flour is mixed thoroughly.
Cover the bowl with plastic wrap and sit it somewhere for 12-18 hours. Not too hard so far is it?
The next morning your bread dough will look like this: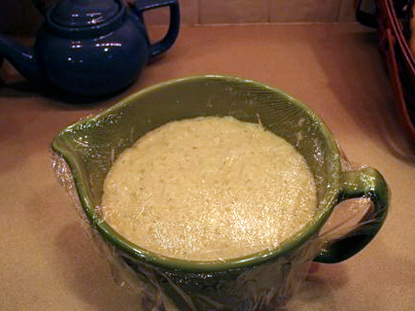 See all the wonderful bubbles?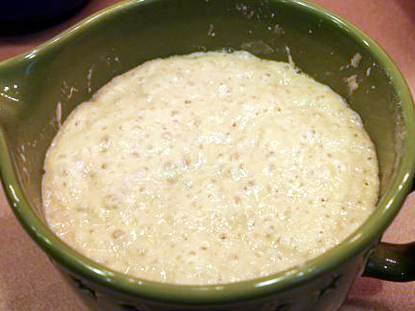 That tiny bit of yeast worked itself through the dough and has basically done all the kneading for you. Take a straight-sided ceramic dish or cast iron pot and place it in a cold oven with the lid on.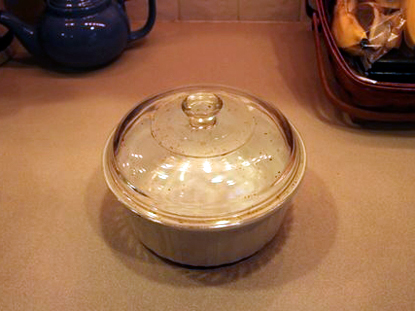 Allow this to heat for at least 30 minutes at 475 degrees. Dust the top of the dough with a bit of flour,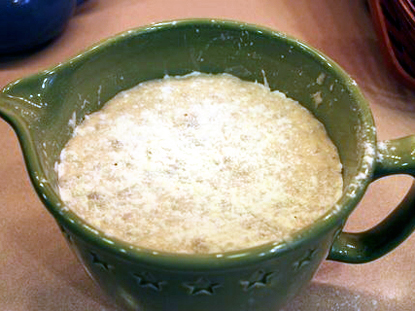 and smoosh it down in the bowl with a spatula.
You want to deflate the bubbles. Take your very hot dish from the oven. Remove the lid and dump your dough into the heated dish.
Don't be surprised it the dough sizzles. Put the lid on the dish and place back in the heated oven for about 30 minutes.
After 30 minutes, take the lid off the dish and turn the temperature to 425 degrees. Bake for another 10-15 minutes. The time depends on how brown and crusty you like your bread.
This bread took me less than 2 minutes of actual hands-on time and that included taking the pictures.


This recipe works just as wonderfully with whole grain flours also. One of our favorites is spelt, oatmeal and a bit of white flour. I've made 100% whole wheat using this exact recipe.
The original recipe called for punching the dough down and allowing it to rise for an hour or two. One day when I was making this, but not thinking, I just punched the dough down and immediately dumped it into the heated dish. I was afraid that I'd ruined the loaf of bread. Instead, the loaf baked up just as beautifully as all my other loaves. Being basically lazy, I figured why bother with that step if it didn't make a difference in the final product?
The original recipe called for the oven to be heated to 500 degrees. That made the crust too dark and hard for my family's taste. This is the time and temperature that works for us. Try different temperatures and times until you find what your family likes.
If I have my sourdough-starter going, I just add a blob of starter instead of the yeast. Works just as wonderfully as yeast.
We're really happy with this bread and I hope your family enjoys it as much as we do.


Get the handy print page and save this to your recipe box here:
Simple, No-Knead Bread.

You can also find Kelly at Yahoo's Canning2 Group.

Do you have a recipe post or kitchen-related story to share on the Farm Bell blog?
Read information here for Farm Bell blog submissions.

Want to subscribe to the Farm Bell blog? Go here.