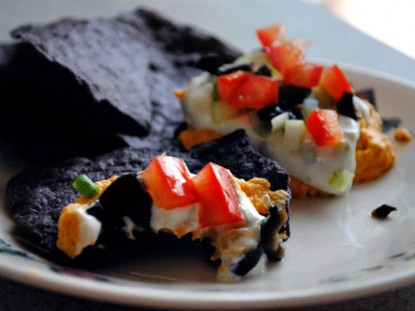 Difficulty: Easy
Ingredients
1-15oz can pumpkin puree, not pumpkin pie filling
1-8 oz package of cream cheese, softened
3 Tablespoons jarred jalapeno juice
1-8 oz container sour cream
2 Tablespoons chopped jarred jalapenos
1-4 oz can chopped green chilies
1 medium tomato, seeded and chopped
3 green onions, chopped
1-2 1/4 oz can sliced olives, chopped
Directions
Mix first 3 ingredients, combine well.
Spread into an 8×8 inch baking dish.
Mix sour cream, green chilies and jalapenos. Spread over pumpkin layer.
Sprinkle tomatoes, green onions and olives.
Cover and refrigerate 2 hours or overnight. Serve with chips or crackers for dipping.
You can use low fat cream cheese and light sour cream to make it a little healthier if you wanted to.
Categories: Appetizers & Snacks
Submitted by: charleycooke on October 7, 2010