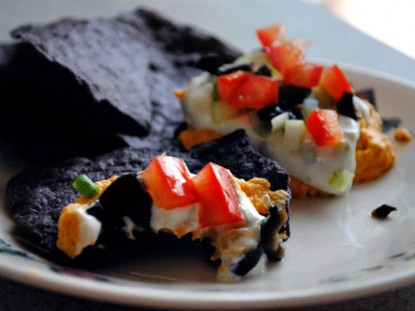 Pumpkin? In a dip? Yes, pumpkin in a dip. And it is so good. This is a really good way to get a compliment on your cooking abilities. No one will think the secret ingredient in this delicious, slightly spicy dip is plain old pumpkin. Pumpkin is versatile, it has a mellow, sweet flavor that goes well with a lot of flavors.
Let's start making this simple, savory pumpkin dip recipe.
How to make Layered Monterey Pumpkin Dip:
1-15oz can pumpkin puree, not pumpkin pie filling
1-8 oz package of cream cheese, softened
3 Tablespoons jarred jalapeno juice
1-8 oz container sour cream
2 Tablespoons chopped jarred jalapenos
1-4 oz can chopped green chilies
1 medium tomato, seeded and chopped
3 green onions, chopped
1-2 1/4 oz can sliced olives, chopped
Put the pumpkin, cream cheese and jalapeno juice into a bowl.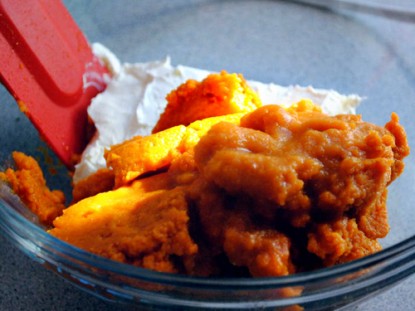 Beat it with a mixer until it is creamy and the cheese is completely combined. Spread it into a baking dish.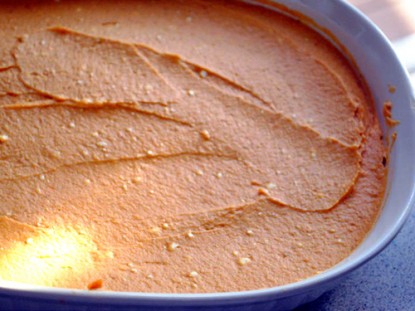 Pretend all the cream cheese is mixed into my pumpkin. I only have one beater for my hand mixer at the moment because the kids buried mine somewhere. We haven't found it yet.
Next, mix the sour cream, green chilies and jalapenos in a bowl.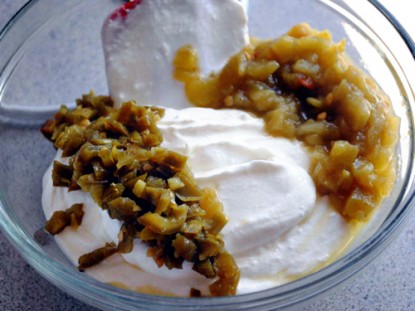 Spread it over the pumpkin mixture.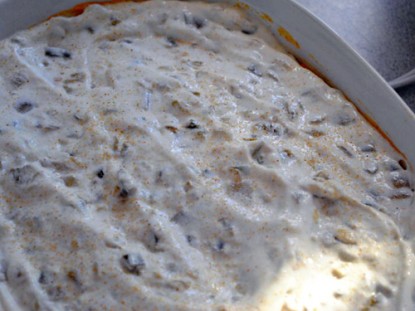 Now, chop some green onion, olives and tomatoes. Sprinkle them over the top of it all.
And there you have it, one incredible easy-to-make dip.
I found the original recipe on the Nestle website and have made some changes to suit our tastes. Feel free to do the same. You can use low fat cream cheese and light sour cream to make it a little healthier if you wanted to.
*A quick note here – if I wasn't feeding small children, I would have doubled the jalapenos. It was slightly spicy, but definitely mild. If you like it more on the spicy side, add more!
Get the handy print page and save this to your recipe box here:
Layered Monterey Pumpkin Dip.

Charley blogs at Cooke's Frontier.

Interested in contributing a guest post to the Farm Bell blog? Read information here for Farm Bell blog submissions.

Want to subscribe to the Farm Bell blog? Go here.