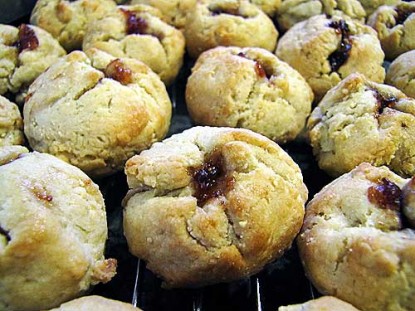 Difficulty: Easy
Servings: approx. 3 dozen
Prep Time:
20 minutes plus chilling time
Cook Time:
20 minutes
Ingredients
4 cups all-purpose flour
3/4 cup non-fat dry milk
1 1/4 cups sugar
1 tablespoon baking powder
3 eggs
3/4 cup butter, melted
1 1/2 teaspoons vanilla
jam for filling
Directions
Combine all the ingredients except for the jam and mix well; knead into a dough. (The mixture will be a little dry, but will knead into a ball.) Wrap the dough in plastic and chill in the refrigerator for at least an hour. Form the chilled dough into small balls. Make a hole with your thumb in the center of each ball and fill with about a 1/2 teaspoon of jam. Close back up into a ball. (It's okay if a little jam peeks out the top.) Bake at 375-degrees on a lightly greased cookie sheet for about 20 minutes or until just lightly browned at the edges.
Categories: Biscuits, Breads, Cookies & Bars, Desserts, Holiday
Submitted by: suzanne-mcminn on March 29, 2011