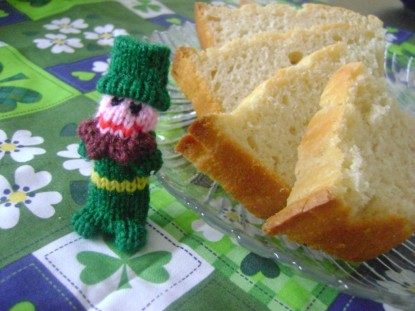 I'd never tried Irish Soda Bread until today–and oooohh–what we've been missing! A smooth, dense bread just waiting to be toasted or nibbled on plain…by the "little people."
Much quicker than traditional yeast breads–just whip the ingredients together and bake. No "rise" time.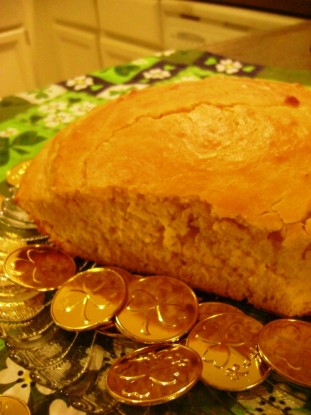 How to make Irish Soda Bread:
4 cups all-purpose flour
1 teaspoon baking soda
1 teaspoon salt
2 cups buttermilk *
*Note: If you don't have buttermilk on hand, a fair substitute is to add 1 tsp. lemon juice to each cup of regular milk, wait 3-5 minutes, then use wherever buttermilk is called for.
Heat oven to 425 degrees F. Brush a pie or round cake pan with melted butter or spray with non-stick spray.
Combine dry ingredients in a deep bowl. Gradually stir in 2 cups buttermilk, beating constantly, until dough is smooth.
Pour into prepared pan…it won't be long now!
Bake at 425 degrees F for about 45 minutes, or until the top is golden.
Serve hot…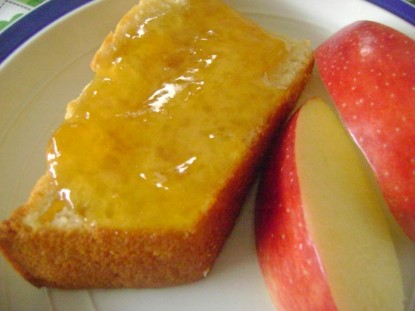 with jam.
Ooohh, baby!


Get the handy print page and save this to your recipe box here:
Irish Soda Bread.

Launi blogs at Gracious Rain.

Do you have a recipe post or kitchen-related story to share on the Farm Bell blog?
Go here to read information and submit a post to the Farm Bell blog.

Want to subscribe to the Farm Bell blog? Go here.