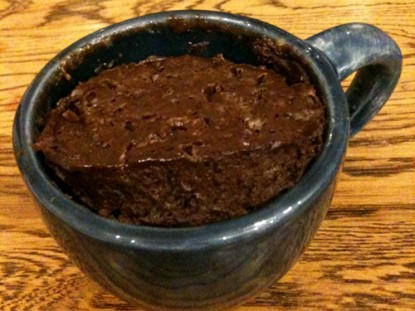 Difficulty: Easy
Servings: 1
Prep Time:
5 min
Cook Time:
90 seconds
Ingredients
3 Tbsp butter
4 Tbsp sugar
1 egg white
3 Tbsp flour
2 Tbsp cocoa
3 Tbsp milk
tiny pinch of salt
few chopped nuts, optional
small splash vanilla, optional
few mini marshmallows, optional
few mini chocolate chips, optional
Directions
Put butter into your mug and microwave it for about 15 seconds or just until the butter is melted but not hot. Add sugar and egg white to your butter and stir just a little.
Stir in flour, cocoa, milk and salt. If you're using the chopped nuts, vanilla, chocolate chips or marshmallows, add them now.
When the contents of your mug look like brownie batter, zap it in the microwave for 1 minute, 30 seconds. The top will puff up like a miniature chocolate soufflé.
You can drizzle it with chocolate syrup or plop a scoop of vanilla ice cream on top if you like but it is rich, dense and oh-so-chocolatey all by itself. Be sure to eat it while it is still warm! (Don't be overly zealous, though. It's very hot when it comes out of the microwave.)
Categories: Cakes
Submitted by: kellyberry on February 4, 2011