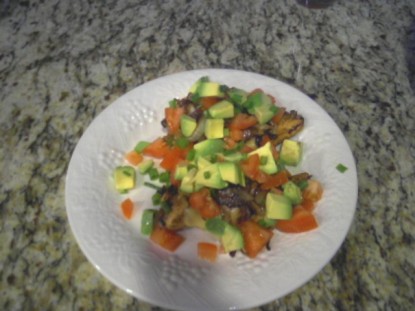 Difficulty: Easy
Servings: 4
Prep Time:
25 minutes
Cook Time:
25 minutes
Ingredients
Marinade:
1/4 cup worchestershire sauce
2 tsp mustard – grainy or dijon
1/4 cup apple cider vinegar
2 minced garlic cloves
3 Tbsp. olive oil
1/2 tsp. pepper
1/2 tsp. salt
Juice of one lemon
Juice of one lime
2 Tbsp. brown sugar
4 boneless skinless chicken breast
4 slices gouda cheese (or swiss)
2 large onions
2-3 Tbsp. olive oil
2 small avocados
2 medium tomatos
green onion stems
Directions
Mix marinade and soak your chicken in this for several hours in the frig.
First step: Thinly slice 2 large onions and cook on low to med. Low heat in about 1-2 Tbsp. olive oil. Continue cooking until golden brown and carmelized. Don't even think of fixing this dish without this. This step will take every bit of 15 minutes or a little more.
Get a gas grill heating on high then reduce to medium high. Cook chicken for 5 min each side. Only 5 minutes, it will cook through and still be juicy. The last minute or so, place a folded over slice of Gouda cheese so it melts. Chicken is now done.
Chop up fresh tomato and ripe avocado into ½ inch chunks. Dice up a few rounds of green onion stems. Serve each breast topped with carmelized onions, chopped tomato,avocado and a sprinkle of green onions.
Sit back and enjoy the moans and groans of ecstasy over your culinary masterpiece.
Categories: Cheese, Grill-Outdoor Cooking, Low-Fat, Main Dish, Poultry, Presentation, Special Occasions
Submitted by: missdana on February 4, 2011