January turned out to be better than I expected.
Sure we've been down with this bruiser of a chest then head cold since the end of last year. We missed our New Year's celebration which I'm reminded of every time I open the refrigerator and reach for the orange juice instead of the champagne. The snow accumulates in slow surreptitious layers as if it could pocket a few clandestine inches between snow plow rounds. It can't. Standing 3 or so feet tall, the compost bin is buried, white.
The thing is, it's nice. All of it.
Even the sick part and the idle hours we've stared out the bedroom window as if we're watching an experimental film in which time is the narrative, much like Andy Warhol's black and white 1964 film, Empire. Empire is a single stationary shot and runs for 8 hours and 5 minutes, from 8:06 p.m. to 2:42 a.m. on July 25-26th 1964. The film begins with a white flash. Building lights flicker into the night. Then the film ends. Just like that.
Warhol slowed the film by projecting it at 16 fps (frames per second), slower than the usual 24 fps, so that the gap between time is almost unnoticeable. A white flash begins with a flash of white and ends with flickering lights and darkness.
Our view isn't of a skyscraper, it's of the house across the street. Lights turn on and off. Snow falls and it's white even in the dark.
Sick or not, there is only so much window or Empire gazing one can do.
That's when I picked up a recent addition to my cookbook collection, The Settlement Cook Book: The Way to a Man's Heart by Mrs. Simon Kander (aka Lizzie Black Kander). Originally published in 1901, the book offers a glimpse back to American cookery at a time when "proper dress for the kitchen" was the written word.
I wear a black apron with black polka dots and red trim, but that's as close to a pre-1950s housewife that I get.
Here's what to wear (and not wear) in The Settlement kitchen:
1. no jewelry
2. wear a cotton wash dress or a cover-all apron with a pocket for a handkerchief
3. have a small hand towel that buttons on band of dress or apron
4. have two pot holders, fastened together with tape and attach to dress or apron
5. wear washable cap that covers the hair
6. never lick your fingers or dry them on the dish towel
In short, I would have broken all the rules.
Even with these Retro Grahams.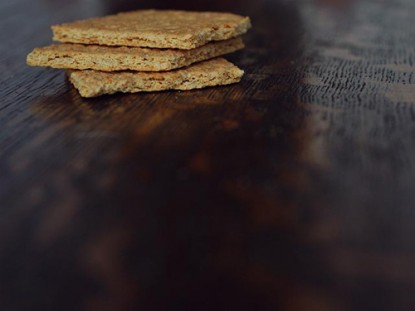 Retro Grahams
Yields about 24 graham cracker squares
1/2 pound honey graham (about 24 squares, use homemade or pre-packaged)
1/4 cup roasted pecan butter
1/4 cup creamed coconut butter (or unsalted butter)
1/4 cup raw honey
1/2 teaspoon ground cinnamon
1/4 teaspoon ground ginger
1/2 teaspoon vanilla
1/2 cup chopped pecans
1/2 cup unsweetened shredded coconut
1/2 cup semisweet chocolate chips
To make roasted pecan butter:
Preheat oven to 350F. Line two baking trays with parchment paper.
Roast 1/4 cup of the pecans in a single layer on a baking sheet. Bake for 7 to 10 minutes, until the pecans are fragrant and a shade darker in color. Allow to cool. Place roasted pecans in a food processor; blend for 1 to 2 minutes until creamy.
To make retro grahams' filling:
Add the coconut butter or unsalted butter, honey, cinnamon, ginger, and vanilla to the roasted pecan butter and process until smooth. Spread the pecan butter mixture on graham crackers. Cover with pecans, shredded coconut, and chocolate chips.
Bake for 5 to 7 minutes, until the pecan butter and chocolate chips almost melt.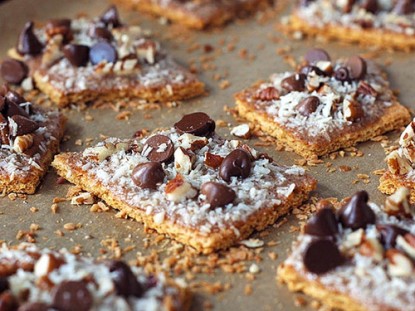 Get the handy print page and save this to your recipe box here:
Retro Grahams.

art & lemons blogs at art & lemons.


Do you have a recipe post or kitchen-related story to share on the Farm Bell blog?
Read information here for Farm Bell blog submissions.

Want to subscribe to the Farm Bell blog? Go here.