I have decided to try my hand at offering cakes, cookies and other party trays for sale in my area. I have a large recipe box full of recipes in every category. Many of these are old family recipes that I have had for many years.
To get started, I pulled out several of the old family recipes and broke them down by cost. Most of these are recipes I have not made in years, so I figured I might need to try them out again to make sure they still taste as good as I remember. It is rather strange to be baking things I no longer eat (as I have been eating healthy for about 8 months), but I am sure I can find people that will be willing to help me in that area.
This recipe, for example, had to be adjusted. The original recipe calls for two 4.5 ounce jars of baby food plums, apricots, or dates. Well, they don't make those fruits as baby food any longer. I found apricots mixed with other fruits like apples and pears, but not on their own, and I found no plums (or dates). This makes me rather sad, as I can remember as a child loving it when my Mamaw made this cake and let me lick the plum jars. Those were really delicious! I have come up with a substitution that works, though, so I can use this recipe. I rehydrated dried apricots, and ran them through the food processor. I used a 6 oz. package of dried apricots and it made more than I needed. After I made the cake, my mom said, "why don't you blog about your cake?" So, here it it. My Mamaw's Coffee Cake recipe: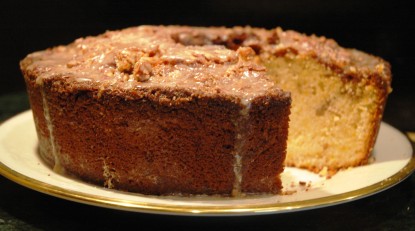 Mamaw's Coffee Cake:
Cake:
2 cups self-rising flour
2 cups sugar
1 cup vegetable oil
4 eggs, slightly beaten
1 cup plus 1 tbsp. (9 oz.) dried apricots, rehydrated
1 tsp. vanilla extract
1 tsp. rum flavoring
Streusel Topping:
¼ cup brown sugar
2 tsp. cinnamon
½ cup chopped pecans
Scant 2 Tbsp. flour
Glaze:
1 cup powdered sugar
2 tbsp. milk
1 tsp. vanilla
To rehydrate the apricots: Cut apricots in quarters and place in a bowl. Pour very hot water over the apricots to cover, plus about an inch of water. Let stand for 1 hour. Put apricots and soak water in a food processor and process until smooth. Measure out 1 cup plus 2 tablespoons (9 oz.) for the recipe.
Preheat oven to 350 degrees. In large mixing bowl at low speed, beat the eggs and sugar until blended. Add oil alternately with flour, mixing well after each addition. Add apricots, vanilla and rum flavoring; beat at medium speed for 2 minutes. In separate bowl, stir together topping ingredients. Pour ½ batter into greased and floured 10-inch tube pan. Sprinkle with ½ topping mix. Repeat with remaining batter and topping. Bake at 350 degrees for 1 hour 10 minutes. Cool in pan for about 5-10 minutes.
While cake is cooling in pan, heat glaze ingredients in a small saucepan on medium heat. Turn cake onto plate, with streusel topping facing up. Pour glaze over hot cake.
Just to let you know, it was just as delicious as I remember it. (I had one small taste.) It really lives up to the coffee cake name as it would go perfectly with a steamy hot cup of java. I hope you enjoy it!
Get the printable and save it to your recipe box:
Mamaw's Coffee Cake