I have been intrigued with the different posts about the complexity of menu planning. I can't say that I have ever planned menus more than one day ahead. Basically, what we eat is what's on sale.
I have graduated from making all of my bread to making everything from scratch. It began as a challenge two years ago to eliminate corn syrup from our diet. This project expanded into recording all of the food products I buy for analysis. But this is another story.
Basically, I pick up the bargains on the "use it now" produce stand at very nice prices (tomatoes for 50 cents per pound, etc). and I take it home and find something to add it to. It extends the meat and makes fantastically juicy and flavorful burgers.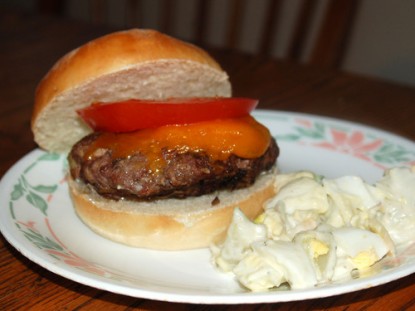 A few weeks ago, I was preparing to make hamburgers for the grill. I added a lot of chopped onions. I had a carton of mushrooms left over that I needed to find a use for, so I chopped them up too. There was almost an equal amount of onions/mushrooms to meat. The result was fantastic!
The next time I made hamburgers, I had recently found some chayotte squash on the "rewrap" stand at the grocery store (I thought they were pears), so I chopped them up and added them to the now vegetarian burgers with some meat.
I had too much for the hamburgers so I added some of the chayotte squash to the potato salad, too.
I have also added other squashes and green pepper. They make great fillers, too.
And yes, that is a homemade hamburger bun, and homemade mayo in the potato salad, and homemade ketchup on the hamburger (you can't see it but I wanted to get that in).


Do you have a recipe post or kitchen-related story to share on the Farm Bell blog?
See Farm Bell Blog Submissions for information, the latest blog contributor giveaway, and to submit a post.

Want to subscribe to the Farm Bell blog? Go here.
Would you like a chance to win a Euro Cuisine yogurt maker?
Click here.