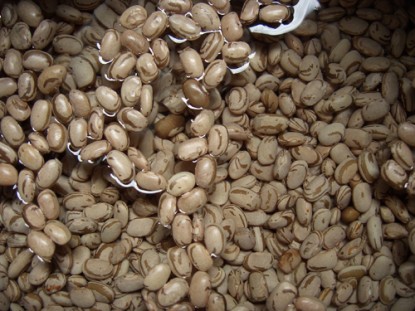 The more you eat, the more you… Shoot. I can't remember the rest.
The kids loooooove refried beans. I am terribly grateful they do, despite the large number of toot jokes two small boys and two large boys can come up with. Not that I can't hold my own, because I can and I will.
Don't test me.
Dried beans are by far one of the cheapest staples you can buy. If you took the time to compare the price (and calories!) of prepared canned refried beans to the same amount of dried beans, you might cry. I usually wait until beans are 5 pounds for $1 or cheaper before I stock up. I keep a bucket of beans in the pantry for weeknight dinners, parties, or even kiddo crafts.
Beans are truly a magical fruit.
The only downside to dried beans is you need a little foresight. Dried beans need to be soaked overnight, or cooked for several hours to make them palpable. On two separate occasions, I (1) Forgot to turn the crock pot on and (2) Turned the crock pot on, but forgot to plug it in.
Mornings can be rough at my house.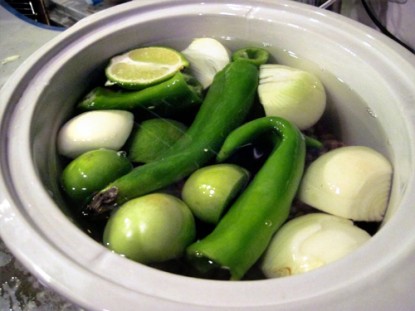 How to make Easy Refried Beans:
3 cups dried beans (will depend on size of crock pot)
1 tsp of baking soda (to reduce the toots!)
1 onion
2 peppers, mild or hot
1 bunch cilantro
1 tomato
2 tablespoons bacon grease, oil, lard, or similar fat (I just toss in a few pieces of uncooked bacon)
Salt to taste
Soak beans overnight in water-filled crock pot.
Drain water, rinse beans, and add water to cover beans. If you are going to be cooking them for awhile, you may want to add extra water.
Chop veggies. Add remaining ingredients to pot.
Cook on low for 4-6 hours.
Remove from heat. Use hand or potato masher to mash up beans.
BEWARE THE HOT BEAN SPLATTER!
Reheat if necessary.
Serve with fresh cilantro, sour cream, cheese, hot sauce, and other goodies!


Get the handy print page and save this to your recipe box here:
Easy Refried Beans.

Larissa blogs at The Henway.

Do you have a recipe post or kitchen-related story to share on the Farm Bell blog?
Read information here for Farm Bell blog submissions.

Want to subscribe to the Farm Bell blog? Go here.