Saint Patrick's day in our house is a holiday that we use to remember family. My maiden name is McGinnis, and being red headed and freckled it's easy to understand that I embrace my Irish heritage.
It wasn't always like this for me, as it used to be one of my hardest times to cope with because everyone was happy, drinking, and enjoying the day. You see, my infant son passed away on Saint Patrick's Day, and coming from Irish descent, I instinctively knew when March 17th was coming, and I despised the happiness surrounding the day.
My saving grace came when I was 5 years into the grief journey when a light bulb went off. Why not make this day a memorial dinner as a way to cherish the memory of my son and dad? Thus, the McGinnis Family Saint Paddy's day dinner became a tradition. Our family gets together, plays Irish Music (Clancy Brothers, my Dad's favorite!), watch the Quiet Man with John Wayne, and just enjoy being with each other. This year was special as it was the first dinner without my Mother who passed away this past October.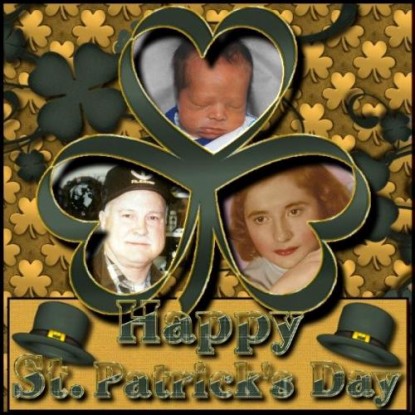 Our menu varies over the years, but can include Salmon Croquettes, Irish Beef Stew with Guinness, My Mom's Corned Beef and Cabbage, Soda Bread, Guinness Cake with Irish Cream frosting, and Irish Flag punch with Lime Sherbert and Orange Hi-C.
My kids and husband are not fans of Traditional Corned Beef and Cabbage, but everyone loves my Mother's recipe for this traditional dinner. It is a basic cabbage dish with canned corned beef. For those of you with picky kids who do not like the taste of a corned beef brisket, give this one a try. I guarantee your family will like it, and it takes less time than the traditional brisket dinner.
How to make Ora Mae's Easy Corned Beef Cabbage: Printable
Clean, remove core and chop one head of cabbage. Place in stock pot with 7 cups (or more) of good vegetable stock. The stock can be homemade or store-bought. Add more as needed, you want this served with some broth.
After cabbage has cooked and about 15 minutes prior to serving, add on can of corned beef, crumbling as you add to the pot. You usually find the corned beef in the canned meats section of the grocery store.
Taste broth. Add salt and pepper as needed. Add a couple pats of butter and stir to melt prior to serving.
Variations: Add two teaspoons of caraway seed and some chopped parsley.

Traditional soda bread is a St. Paddy's day favorite; however my Mother served this dish with good 'ole American Corn Bread. It's just as good too!


Editor's Note: katpecosa1 submitted this post in March, but submissions were backed up so it wasn't scheduled until now. It's truly a story that needs to be shared no matter that St. Patrick's has passed for this year.
Do you have a recipe post or kitchen-related story to share on the Farm Bell blog?

See

Farm Bell Blog Submissions

for information, the latest blog contributor giveaway, and to submit a post.

Want to subscribe to the Farm Bell blog?

Go here

.