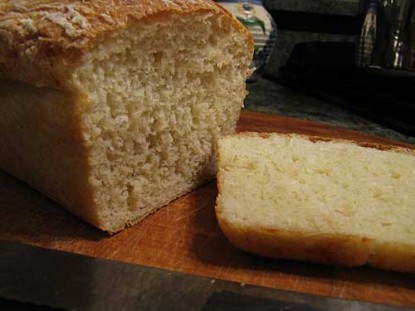 Difficulty: Easy
Servings: 1 loaf
Prep Time:
5 minutes
Cook Time:
25 minutes
Ingredients
1 1/2 cups warm water
1 teaspoon yeast
2 tablespoons sugar
1/2 teaspoon salt
1 cup lactic cheese*
3 1/2 cups flour
Directions
*You can substitute any fresh soft cheese, such as cream cheese, fromage blanc, yogurt cheese, etc, for the lactic cheese.
This is a Grandmother Bread recipe.
In a large bowl, combine water, yeast, sugar, and salt. Let sit five minutes. Mix in the lactic cheese. Stir in the first cup of flour with a heavy spoon. Add more flour, a little at a time as needed, stirring until dough becomes too stiff to continue stirring easily. Add a little more flour and begin kneading. The amount of flour is approximate–-your mileage may vary! Continue adding flour and kneading until the dough is smooth and elastic. Let dough rise in a greased, covered bowl until doubled. (Usually, about an hour.) Uncover bowl; sprinkle in a little more flour and knead again. With floured hands, shape dough and place in a greased loaf pan. Cover, and let rise for 30-60 minutes. Bake for 25 minutes in a preheated 350-degree oven. Can also be made as dinner rolls–divide into 12-15 rolls, place on greased pan, let rise and bake for about 15-20 minutes or until browned.
Categories: Breads, Yeast Breads
Submitted by: suzanne-mcminn on October 15, 2011