I think Summer has finally settled into West Michigan. (Knocking on wood…I don't want to jinx it!) The last couple of months here have been HOT! for a day, then COLD! for more than a few days, rain when it's not needed, no rain when it's needed. Just a crazy Spring.
Along with all of you, Summer is a busy time. We spend Fall winding down from the busy Summer and getting ready for Mr. Winter to visit and overstay his welcome, all the while dreaming of Spring. Then Spring comes and we're cleaning up from Mr. Winter and dreaming of the Summer in the garden, fun times with the family and kids, cookouts that last all evening, sitting on the deck enjoying coffee in the morning or an ice-cold drink in the evening.
Then Bam!, it's almost the end of June and I suddenly realize Summer is here to stay for a few months!
For us, Summer isn't spent in the kitchen. At least not the house kitchen. My summer kitchen is the grill–a wood-fired grill.
It's usually fired up 3 or 4 times a week (the other days are eaten from the pantry shelves!). Yes, it takes longer from lighting to eating, but nothing tastes better than having that smoked flavor throughout your meat or vegetables or even bread.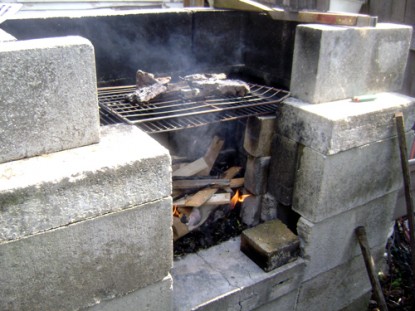 In the couple hours it takes to get a good bed of coals to cook on, the garden is weeded, the lawn is mowed or trimmed, the dogs are out running around or I'm just sitting watching the chickens play.
Today though, I finally got this piece of granite slab (free!) I've had sitting around the garage and the yard for about 5 years up on an old table bottom (free!) for a grill-side table and serving buffet. Makes things much nicer!
After looking at it for a couple hours, though, I realized I was going to take that wood off of the table before the granite slab was lifted up there. I hope it's not another 5 years before I can get someone to help me lift that huge piece of granite off so I can redo it!

Everything is fixed on the grill. I like to keep everything in one spot, not running back and forth. That doesn't make for such a relaxing time.
Baked potatoes are wrapped in aluminum foil and baked right on the hot coals. Sweet corn in the husk is soaked in water for an hour then put on the grill to steam. Look how nice peeling the silk away from the corn is, done this way!
When the corn and potatoes are done, they're put off to the side to keep hot.
I put Homemade Baked Beans in the cast iron pan to slowly cook on one side of the grill. When they're done (about the same time as the corn and potatoes), I put them up on top of the bricks.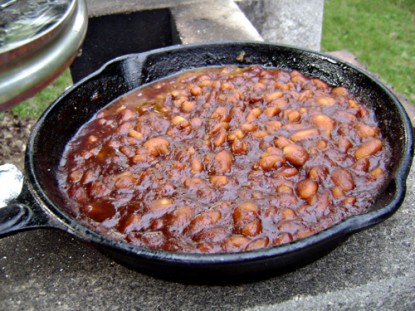 At the end (when the bread is grilling), where I stick them back down into the coals to heat up just a little bit.
After the beans are put up top and the corn and potatoes are put off to the side, the chicken breasts are next. Chicken breasts marinated in anything is great, but my favorite is a BBQ sauce (homemade or bought either one) or a lemon pepper.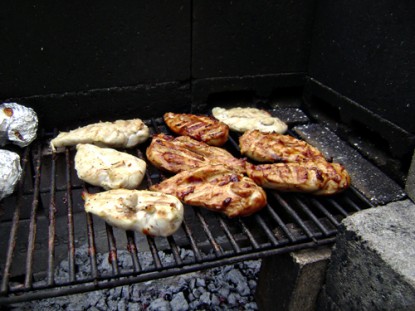 When the chicken is done and put in the covered dutch oven to keep hot, the homemade wheat bread is buttered and grilled.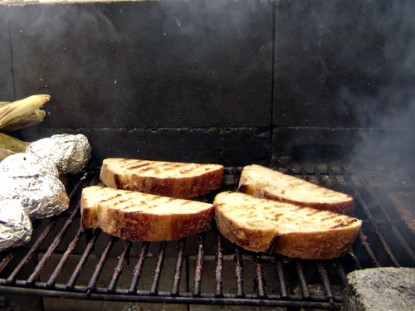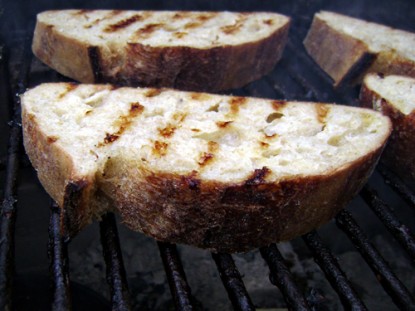 After smelling smoke for many hours and the chicken cooking, sitting down to eat is making my mouth water!
Delicious!
Do you grill? What are your favorite things to grill? Special recipes? Share them with us–submit a recipe and put them in the Grill-Outdoor Cooking category!
See all of the Grill-Outdoor Cooking recipes!
On an aside…
I know everyone is busy with all of the Summertime fun activities, but we're scheduling July's posts here on Farm Bell Blog–your community blog.
Suzanne is doing a month-long giveaway for contributors, every month. At the end of each month, a number will be generated from random.org and whose ever post lands on that date in the previous month wins the giveaway! The more posts you submit, the more chances you have of winning. This month is the Nesco/American Harvest Dehydrator. Next month? Only Suzanne knows…and she isn't telling yet, but I'm sure we'd all love to have one. When doesn't she pick great giveaways?
There is no commenting needed to win, just submit a blog post and you're automatically entered (posts are subject to editorial approval)!! At the beginning of each month (or the tail-end of a month for the next month), Suzanne will choose a new prize and post it here as well as on the Blog Submission page and also in the newsletter.


Cindy blogs at Chippewa Creek ~ Our Life Simplified.

Do you have a recipe post or kitchen-related story to share on the Farm Bell blog?
See Farm Bell Blog Submissions for information, the latest blog contributor giveaway, and to submit a post.

Want to subscribe to the Farm Bell blog? Go here.
Check out the latest blog contributor giveaway!